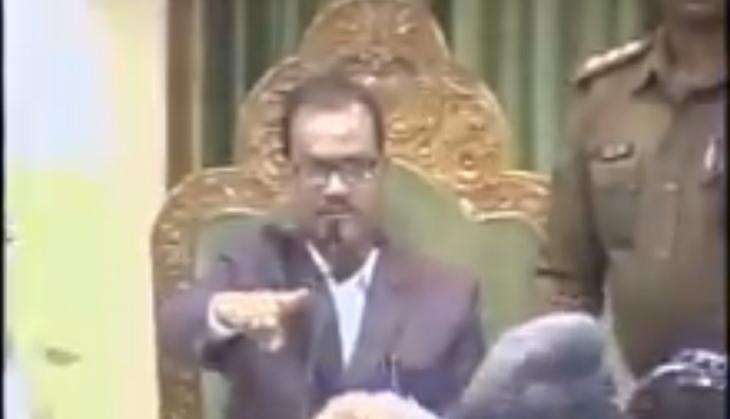 During a session in the Jharkhand assembly on 23 November, a shoe was thrown at the Speaker Dinesh Oraon, following which his mike was damaged and chairs and tables were thrown around in the house.
Two land acts posed a stalemate between the ruling Bharatiya Janata Party and the Opposition and this ended when an amendment bill was tabled and passed. However, it was passed without any discussion on it.
This is how the series of events at the Jharkhand assembly unfolded:
- When the House assembled at 11am, Opposition members came to the well, opposing the amendments. The Opposition members threw chairs and the reporters' table. The house was adjourned till 12.45pm and witnessed a similar situation when it re-assembled. The house was adjourned till 2pm.
- When the House assembled after lunch at 2pm, Land and Revenue Minister Amar Bwari tabled the amendment bill and opposition members walked in the house sloganeering against the amendments to two land acts of the state - Chhotanagur Tenancy (CNT) and Santhal Paragana Tenancy (SPT) Acts.
- Some of the Opposition members stood on the reporters' table and Jharkhand Mukti Morcha (JMM) legislator Polush Surin hurled a shoe at the Speaker. However, the shoe was caught by the marshal of the house. The Opposition members also tore the bill copy.
The amendments, which were passed by voice vote, will allow agricultural land to be used for non-agricultural purposes.
#WATCH Pandemonium in Jharkhand assembly: Opposition members staged a protest against amendment in land laws pertaining to tribal protection pic.twitter.com/SBMrdQQw9x

— ANI (@ANI_news) November 23, 2016
A national news agency quoted JMM legislator Polush Surin as saying, "We are representative of the people and our voices are not heard. What can we do when people's voices are repressed?"
The BJP's ruling alliance partner All Jharkhand Students Union (AJSU) also has opposed the bill.
"We will move the court. Our options are open. Remaining in the government is not an issue," AJSU legislator Vikas Munda was quoted as saying. Jharkhand Chief Minister Raghubar Das has condemned the incidents in the House.