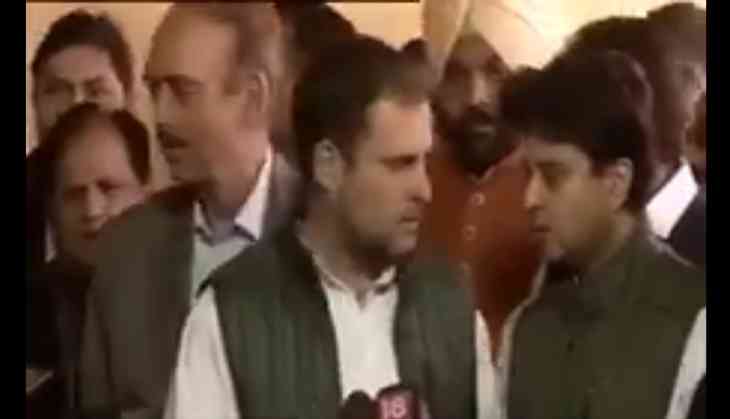 Congress president Rahul Gandhi is also trolled for his public speaking skills though that has witnessed a huge change after Gujarat Assembly polls last year. Gandhi can be seen more confident while addressing public gatherings and rallies and also press meets. However, Union Textile Minister revealed how he gets all his confidence from.
In a recent press meet, Rahul Gandhi was caught being tutored by Congress leader Jyotiraditya Scindia what to speak in front of media. Recently, Congress has a massive win in BJP ruled three states after dethroning it from power. After which, one of a video before the press of Rahul Gandhi has gone viral on social media.
In the video, the Congress President can be seen consulting his trusted aides, party leade rs Ghulam Nabi Azad, Ahmed Patel and Jyotiraditya Scindia, right before addressing the reporters.
Jyotiraditya Scindia, who was in the race for the Madhya Pradesh Chief Minister seat but later was dropped can be clearly heard telling Gandhi exactly what he needs to say to the media, as per the video. Scindia is heard telling the Congress President, "You need to say what Modi...could not do, I have done."
आजकल सपना दिखाने के लिए भी ट्यूशन लेनी पड़ती है ??? pic.twitter.com/Z6ZL3MOQhq

— Smriti Z Irani (@smritiirani) December 18, 2018
However, Scindia was possibly indicating at the farm loan waivers granted by the newly-elected Chhattisgarh and Madhya Pradesh Congress government. "And, don't ask questions," Scindia added, just before Rahul turned to finally address the media.
This viral video was also tweeted by Union Minister Smriti Irani who took the opportunity to take a sarcastical jibe at Rahul Gandhi. She shared it on her Twitter account quoted "Aajkal sapne dekhne ke liye bhi tuition leni padti hai???" (These days, you need tuition classes just to dream???)
Meanwhile,Irani's humour did not went well with Congress spokesperson Priyanka Chaturvedi Chaturvedi said in her tweet, "Dear Troll, The tuition to turn dreams into 'jumlas' and then to serve them as lies are surely given at the BJP headquarters. Okay Madam, ask PM Modi to hold one press conference at least, even if it's with the help of tuition, he has to answer many questions. The nation is waiting. Agreed?"
Also read: Former PM Manmohan Singh takes jibe at PM Modi, says, 'I wasn't afraid of talking to press'