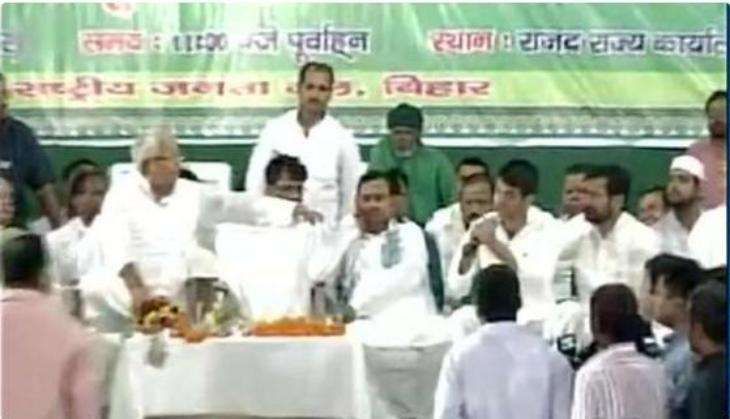 Lalu Prasad's son and Bihar Health Minister Tej Pratap Yadav courted controversy on 5 July after he was caught threatening a journalist on camera.
The incident occurred during the Rashtriya Janta Dal's (RJD) 20th foundation day celebrations at the party headquarters in Patna on 5 July.
A TV journalist, who was attending the function, allegedly filmed a video of Tej Pratap browsing through photos on a camera while the function was on.
The journalist was asked to delete the video, something he refused to do. Lalu Prasad then called him to the dais and asked him to delete the video.
As the journalist tried to justify the video, Tej Pratap lost his cool. "I will lodge a case (against you). I respect you because you (journalist) are from 'press'. Delete the video otherwise I will file a defamation case against you," Tej Pratap told the scribe.
"I just made a short video clip of Tej Pratap Yadav watching 'still camera'. There is nothing wrong in it. There was nothing intentional at all. There are so many video cameras of various news channels and few still cameras of print media taking that picture," the journalist told PTI.
Agitated mediapersons threatened to leave the function, prompting party leaders to pacify the journalists.
Watch the video here:
#WATCH: Bihar Health Min Tej Pratap Yadav threatened to sue a journalist during an altercation with him yesterdayhttps://t.co/4JBoz4sWwS

— ANI (@ANI_news) July 6, 2016
--Agencies