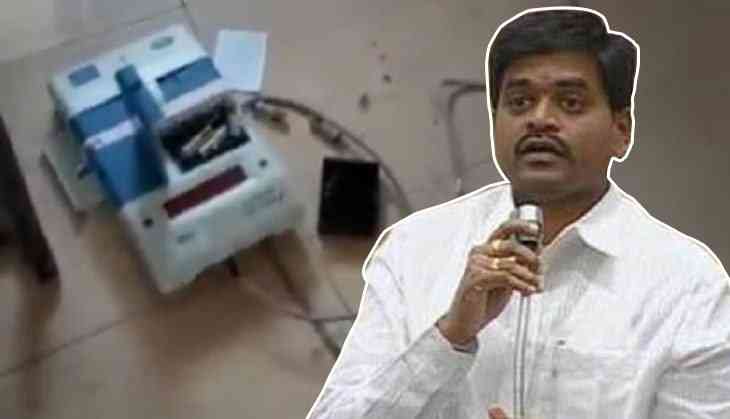 Angry with polling booth staff, Jana Sena Party's MLA candidate threw Electronic Voting Machine (EVM) machine on the floor on Thursday as polling for the 25 Lok Sabha seats and 175-member Assembly was underway in the state.
Jana Sena Party MLA candidate Madhusudhan Gupta was arrested after he threw the EVM on the floor at a polling station in Gooty, in he Guntakal Assembly constituency of Anantapur district.
#WATCH Jana Sena MLA candidate Madhusudhan Gupta smashes an Electronic Voting Machine (EVM) at a polling booth in Gooty, in Anantapur district. He has been arrested by police. #AndhraPradesh pic.twitter.com/VoAFNdA6Jo

— ANI (@ANI) April 11, 2019
According to News18 reports, Gupta had come to cast his vote at the polling station in Gutti was angry with polling staff over names of Assembly and Parliament constituencies not being displayed properly in the polling station.
Following which he got furious and lifted the EVM and threw it on the floor. The machine was damaged in the incident. Gupta was immediately arrested after the incident.
The Phase 1 polling will be held in the states like Andhra Pradesh, Arunachal Pradesh, Meghalaya, Uttarakhand, Mizoram, Nagaland, Sikkim, Lakshadweep, Andaman and Nicobar Islands and Telangana are voting today in a single phase. Phase 1 voting is also being held in parts of Assam, Bihar, Chhattisgarh, Jammu and Kashmir, Maharashtra, Manipur, Odisha, Tripura, Uttar Pradesh and West Bengal.
Also read: Lok Sabha Elections 2019: IED blast near polling station in Chhattisgarh's Narayanpur district; Naxals call for boycott