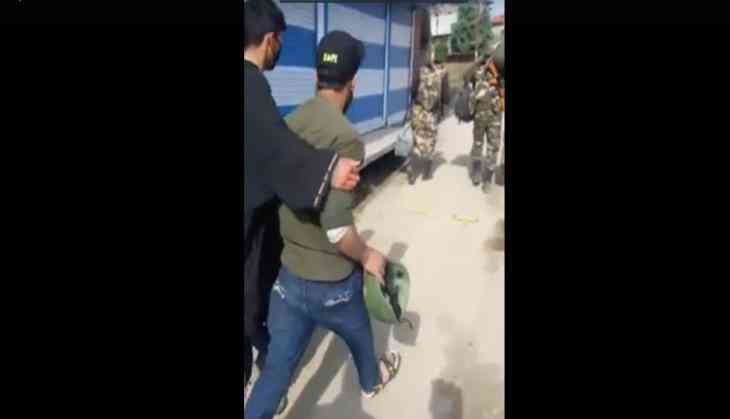 A video showing Central Reserve Police Force (CRPF) jawans being roughed up by Kashmiri youths has been circulating on social media. In the video, group of youths can be seen provoking the security personnel by raising the "azaadi" slogans, kicking, abusing and punching the jawans.
It can also be seen in the video that while some of the youths are humiliating the Jawans, other Kashmiri youngsters are also trying to prevent and discourage the aggressive youths from hitting the security personnel and provoke them.
Although, Catch cannot confirm authencity of the video which seem to have been shot using mobile phone, it appears from the video that the security personnel were returning from a polling station after the Srinagar Lok Sabha bypoll held on 9 April.
The by-polls witnessed clashes and an extremely low voter turnout of 7.14%. According to media reports, at least 8 people were killed in firing by the central forces during the by-polls and 30 FIRs were also registered by the state police against members of central forces.
The video shows youngsters hitting a jawan in the hand, kicking the helmet of another jawan, throwing stones at them and shouting "Azaadi" and "India go back" slogans. The jawans can bee seen leaving the location quietly despite all the provocation and humiliation.
"At times there are allegations that CRPF uses pellet guns. This video was made by the public and uploaded by the public, it clearly shows they are being harassed, not retaliating. The kind of restraint they are observing, it is really commendable because they gave importance to the security of the EVM. They want to uphold democracy," NDTV quoted CRPF spokesperson Bhavnesh Kumar Chowdhary as saying.
Social media reacted very aggressively to the video. Here are some reactions of social media users.
@EconomicTimes @GautamGambhir @virendersehwag This is totally intolerable . Give free hands to our Jawans .

— Braj Bihari Prasad . (@BrajBihariPrasa) April 13, 2017
@PawanDurani You can see throughout the video how youth are preventing anyone from beating them, if u understood kashmiri language u would know that

— Uzair (@Uzaer_Iqbal) April 12, 2017
@erum891 We shud strongly condemn this. They r dere to make their bread n butter. It is the system dt is oppressing #Kashmir nd nt these individuals

— OmarrAmin (@omarramin1990) April 12, 2017
@PawanDurani Unfair!Salute the CRPF for not responding despite being loaded.Just Imagine if they acted like Israeli army. Lucky Kashmiris @abdullah_omar

— Satanyahu (@Satanyahu) April 12, 2017
@Satanyahu @PawanDurani @abdullah_omar They were surrounded & restraint was shown by people as 8 youth were killed that day. U can hear repeated cries of not beating them in kmiri

— Uzair (@Uzaer_Iqbal) April 12, 2017
@PawanDurani yes its provocative...any indian will feel humiliated and his blood will start boiling. but lookg closer 1 loc guy was seen shielding them.

— ask me (@askarmalkar) April 12, 2017
@PawanDurani I saw some youth in blue jacket trying to help CRPF Jawans . Clearly this Kashmir we have not ever thought of . #ImposePresidentsRule in J&K

— Harsh Sachdeva (@harshsachdeva19) April 12, 2017
@PawanDurani Enough of the romance with PDP that is only interested in perpetuating dynastic rule. BJP, pull out of the Govt and have Guv's rule imposed.

— Khaman Dhokla (@khamandhokla) April 12, 2017