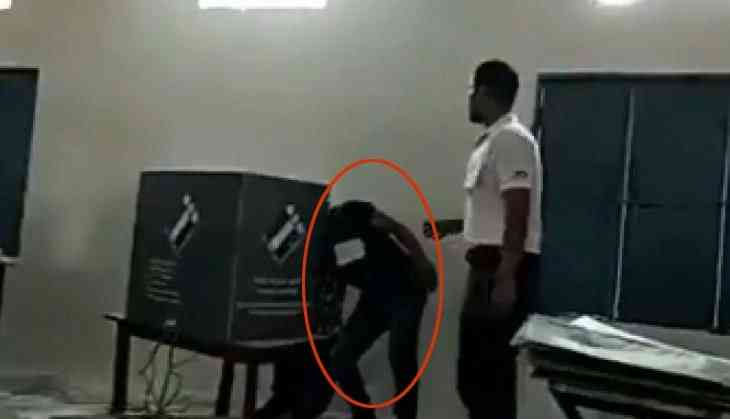 A polling agent in Haryana's Faridabad booth, near Delhi, was caught on camera influencing voters on sixth phase polling for the national polls on Sunday. After the sixth round polling of the national election was over, the agent was arrested on Sunday evening.
The polling agent was arrested after a video on him trying to influence voters went viral on a social media platform and was brought to the notice of the Haryana election body.
एक नेता को जिताने के लिए ये तरीका सही नहीं है! ! ये संविधान, कानून और नैतिकता के खिलाफ भी है! ! ! गाँव असावटी पलवल (हरियाणा) pic.twitter.com/m2euOOBkf2

— SHAHID KURESHI (@UqAsmTfpZGNwK0e) May 12, 2019
In the video. It can be seen a man in blue t-shirt sitting at his table inside a polling booth at Asaoti in Faridabad Lok Sabha seat's Prithla and women voters are standing in a queue inside the room. The man then walks up to the voting compartment as a woman prepares to cast her vote. He presses a button on the voting machine before returning to his seat. He repeated the act with two other women.
In the video, it can be seen that no other officers present in the room tried to stop the man from going to the voting compartment. As the video went viral, many people tagged the Haryana election body's Twitter handle and sought action against the official.
"Prompt action is taken. FIR lodged. The person behind bars. Observer enquired the matter personally and is satisfied that polling was never vitiated (sic)," the District Election Office in Faridabad tweeted.
Matter taken very seriously by the administration of Faridabad district. ARO Bharat Bhushan Gogia HCS rushed to the spot . Soon he was joined by the observer SH. Sanjay Kumar who investigated the entire matter.

— DISTRICT ELECTION OFFICE FARIDABAD (@OfficeFaridabad) May 12, 2019
Based on the poll body's complaint, the man was arrested by the police on Sunday evening. The Election Commission said it will study the report of the Faridabad election observer before deciding further action.
Also read: Lok Sabha Elections 2019: FIR against BJP leader for thrashing polling officer