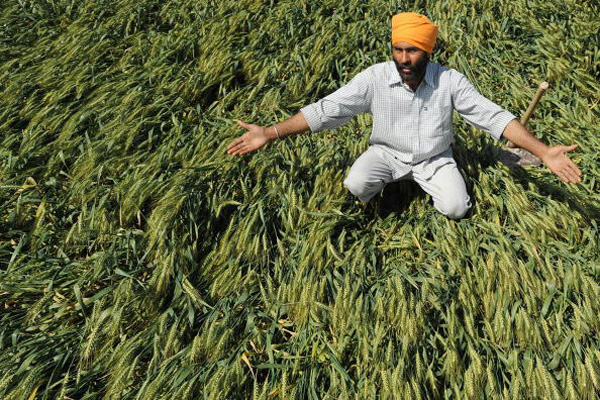 The Agriculture ministry said on Monday that the weekend's heavy rainfall and hail storms damaged about 50 per cent of the rabi crop across Punjab, Haryana, Uttar Pradesh, Madhya Pradesh and Rajasthan, which will likely lead to a hike in food prices.
"The damage can be up to 50 per cent in several districts of Haryana, Punjab, northern Rajasthan and Uttar Pradesh," said an agriculture ministry spokesperson. State governments have been asked to submit their own reports.
Last year, unseasonal rain had destroyed crops to such an extent that the Centre had to give states about Rs 8,000 crore as aid for farmers, says the Hindustan Times.
The crop losses come at a time that drought in many districts of India has created an agrarian crisis.
Under the National Food Security Law, the government needs about 62 million tonnes of grains, including wheat and rice, to ensure a steady supply of food items. This year, there may not be enough buffer stocks to sell in the market to keep wheat prices from shooting up.
Wheat crops were destroyed just a week before harvest, while mustard, potato and peas also suffered. Mangoes in Uttar Pradesh did not flower, and the unseasonal rain affected apples, pears and apricots in Himachal Pradesh.