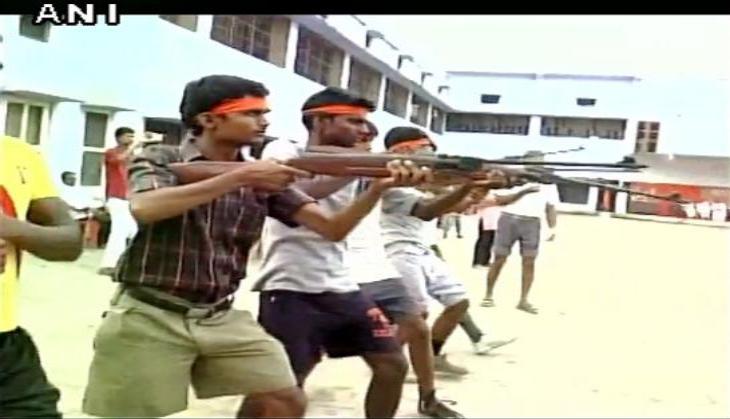 Vishwa Hindu Parishad (VHP) president Pravin Togadia is likely to visit the 'self-defence' camp organised by the Bajrang Dal at the Saraswati Shishu Mandir in Noida, Sector 12, on 28 May.
According to reports, over 300 participants are undergoing training to handle situations like "attacks by extremist groups" in the week-long camp, which started on 21 May.
The organisation has hired trainers for judo, karate, nunchaku, stick and sword fighting for training the participants in the camp.
Bajrang Dal leader Mahesh Sharma, who was on Tuesday arrested in connection with the 'self defence' camp organised in Uttar Pradesh's Ayodhya, was sent to 14-day judicial custody
yesterday
.
The Faizabad CJM court passed this order after Sharma was charged with hurting religious sentiments of the Muslim community and spreading communal hatred under Section 153 A of the Indian Penal Code (IPC).
Earlier, on 14 May, a 'self-defence' camp was organised at Karsevakpuram, the Vishwa Hindu Parishad (VHP) workshop, in Ayodhya.
In the video that went viral on Monday, volunteers wearing skull caps were reportedly seen brandishing firearms, swords and lathis.
In the annual self-defence camp, the Bajrang Dal cadres are trained to use rifles, swords and sticks so that they can "protect the Hindus".
The cadres were in the video killing men dressed as Muslims during the mock drill.
The Bajrang Dal had planned to organise similar camps in Sultanpur, Gorakhpur, Pilibhit, Noida and Fatehpur cities in the state till 5 June.
--ANI