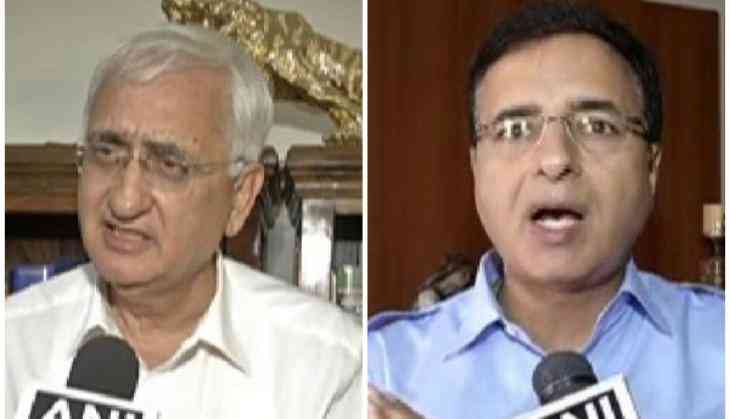 Vijay Mallya's arrest not a feather in cap of Centre: Congress
Coming down heavily on the Centre over Vijay Mallya's arrest, the Congress Party on Wednesday said making hullaballoo over the liquor baron's detention and celebrating it as a great achievement by the government is premature and unnecessary.
'Surely this is not a feather in the cap of the government of India. This is a procedural matter within the jurisdiction of UK police. But for the government to telling people here that we have done something very big is premature. To make hullaballoo of this and to celebrate it as a great achievement is unnecessary and premature,' Congress leader Salman Khurshid told ANI.
Echoing similar views, another Congress leader Randeep Surjewala said that the Bharatiya Janata Party (BJP) should not hoodwink people of India, adding that Mallya's detention was made because of the rigorous campaign of the grand old party.
'Relentless campaign of the Congress party and its vice president Rahul Gandhi has finally led to the temporary detention of Vijay Mallya in the UK. But there are some questions which BJP needs to answer. Is it not true that Mallya was elected as Rajya Sabha member in 2002 with the support of BJP in Karnataka? Why does BJP support such a defaulter? Is it also not true that CBI had registered a case against Mallya in 2015? Why was he not detained and permitted to leave India? These are the questions which BJP and Modi Ji need to answer instead of hoodwinking people of India,' Surjewala told ANI.
Mallya was arrested yesterday by Scotland Yard in London on an extradition warrant by India. He was later granted bail.
Following Mallya's arrest, the Scotland Yard issued a statement saying that the absconding businessman was arrested on behalf of the Indian authorities in relation to accusations of fraud.
'Officers from the Metropolitan Police's Extradition Unit have this morning, Tuesday 18 April arrested a man on an extraction warrant. He was arrested after attending a central London police station and will appear at Westminster Magistrates' Court later today, 18 April,' read the official statement of the Scotland Yard.
His arrest came after a Delhi court had issued an open-ended non-bailable warrant against Mallya in connection with the 1995 FERA violation case.
Last month, the Ministry of External Affairs (MEA) informed that Mallya's extradition has been stratified by the Secretary of State of the U.K. Government and added that a warrant would soon be released against him.
-ANI