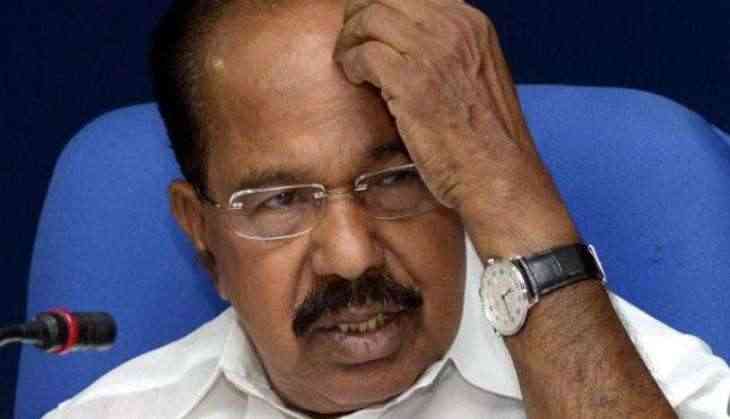 Senior Congress leader, M Veerappa Moily landed into the controversy over an anti-party tweet referring a money role play in the party for deciding who to get a ticket for upcoming Karnataka elections. Later the leader denied posting any tweet in election ticket row, saying "I have not done it".
"INC need (sic) to solve money in politics. We can't afford to have contractors and their nexus with the state PWD minister determine how candidates are selected for the upcoming assembly elections," said a tweet from a twitter handle that is not verified.
The anti-party tweet from identified Twitter handle went viral on the Internet and the led to the political crisis in the party. Mr. Moily said PTI, it was a "mistake committed by somebody else."
"That Twitter (handle) is not in my control. It's not an appropriate tweet. I'm withdrawing (it)," said Mr. Moily, who heads the manifesto committee for the assembly polls.
Not only this the tweet also tagged Rahul Gandhi's office, Congress headquarters, Karnataka Pradesh Congress and Mr. Moily's son Harsha Moily.
However, later both the tweets were deleted from the account. The tweet was allegedly targeted at PWD minister H C Mahadevappa, a trusted aide of Siddaramaiah.
When the Congress sr leader was asked if the account was hacked, Moily said, "I don't say that but even then it's not proper."
"It's unfortunate. It shouldn't have come. I haven't done it. Somebody else has done it. I don't want to go public on party matters."
Even when asked, if any needful action would be taken against those who played 'wrong' with his official Twitter handle, Moily said, he didn't want to make any further statements. "Forget the matter."
responding to the controversy, Mahadevappa said he didn't have any information about it.
"I don't know social media, hence I don't know about tweets. Someone told me about such a tweet, after that he (Moily) has said that he has not tweeted, this is what I know....rest you have to ask him," he added.
Meanwhile, The BJP grabbed the opportunity and the state president, B S Yeddyurappa said Mr. Moily's tweet validates his party's stand that Siddaramaiah is "a 10 per cent CM".
"At last someone's conscience in @INCKarnataka prodded him to speak up! @moilyv ji is right. We have been saying that @siddaramaiah is 10 percent CM," Mr. Yeddyurappa said.
"With contractors filling PWD min's deep pockets, state's coffers & roads are in tatters. Congress veteran's view validates our point," Mr. Yeddyurappa tweeted.
Also read: Congress Plenary session updates: Party sets political roadmap to attack BJP in 2019 Election; 'only our party can unite the nation,' says Rahul Gandhi