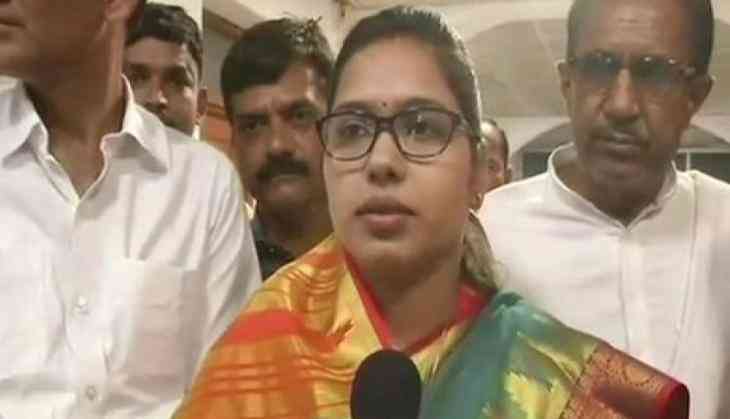 In a country where girls are treated like a goddess and state where daughters are called 'Laxmi', a temple was washed out after a visit of one of its daughter. In a shameful event, a temple in Uttar Pradesh's Hamirpur town war cleansed with 'Gangajal' and statues of deities was sent Allahabad for purification after the Bhartiya Janata Party MLA Manisha Anuragi visited it.
Manisha Anuragi is Dalit BJP MLA, who paid a visit to Dhrum Rishi temple not knowing that the entry of women was banned in the temple. The incident happened in Muskara Khurd village.
"Till today no women had entered the temple. Women are not allowed here. When Manisha Anuragi entered the premises, I was not there, otherwise, I would not have allowed her to enter," the priest of the temple told ANI.
A temple in Hamirpur was purified with 'Gangajal' &statues of deities were sent to Allahabad for purification after Manisha Anuragi, a BJP MLA visited the temple on July 12. The MLA says,"It's an insult to women if such things have happend. These are deeds of half-witted people." pic.twitter.com/hO3pUQgZGl

— ANI UP (@ANINewsUP) July 30, 2018
As per the report, Manisha Anuragi visited the temple on July 12 while she was in her assembly constituency to attend a function. Responding to the act, Manisha Anuragi said: "It's an insult to women if such things have happened. These are deeds of half-witted people."
The locals believe that the temple is from the Mahabharat era. "Since there is a ban on women entering the temple, they can stand outside and pray," a local said.
Upset over the visit of BJP MLA Manisha, an agitated priest said that their village was under a spell ever since the BJP MLA visited the temple. He claimed that since she walked into the temple, the village is facing extreme water problems.
Also read: Manipur 'fake' encounter: Supreme Court slams CBI for filing 2 charges sheets and framing 14 dead people in the conspiracy