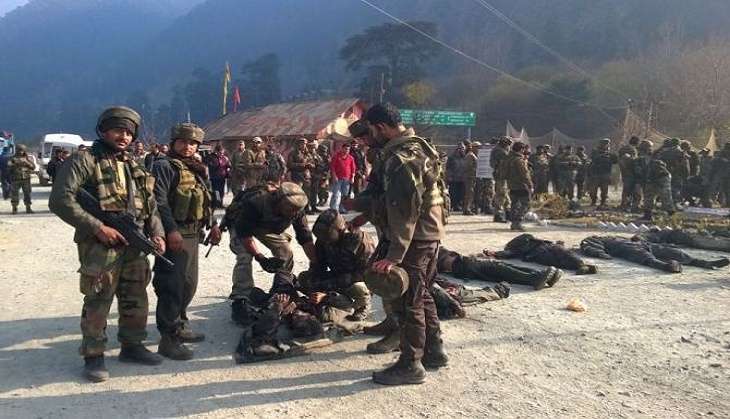 The All India Ulama and Mashaikh Board has called Uri attack "deplorable" and "the most obnoxious attack on the Indian Army."
Eighteen soldiers were killed and over 20 others were injured during the 18 September terror strike on an army camp close to the headquarters of the 12th Brigade at Uri in Baramulla district.
Founder and President of The All India Ulama and Mashaikh Board, Syed Muhammad Ashraf Kichchawchchvi told dna that the terror attack "rings an alarming bell to warn of the great trouble and the need for action".
Also Read: Designate Pakistan as a state sponsor of terrorism: American India Public Affairs Committee
The board said that Wahabism was detrimental to the internal security of the nation and the people.
It maintained that the attack which took place on "the valley of Jammu and Kashmir which is in the acute grip of the Wahhabi ideology being replaced by eliminating the peaceful, pluralistic Rishi-Sufi tradition."
Also Read: Uri Attack: Defence Minister Manohar Parrikar instructs army to take firm action
Director General of Military Operations (DGMO) Lieutenant General Ranbir Singh had alleged that the four terrorists belonged to Pakistan's banned terror outfit Jaish-e-Mohammed (JeM).
Also Read: Indian army reserves right to retaliate: DGMO briefs media on Uri attack
Slamming the JeM, the Board told the daily: "We condemn, in the harshest words, the terrorist organisation, Jaesh-e-Mohammed (JeM), conceived and led by Maulana Masood Azhar who champions the violent extremism stemming from the Wahhabism in Pakistan."
"We also appeal to the government of India that the perpetrators of the crime be brought to justice and the internal security, stability, army and the people of Kashmir are safeguarded from any further loss. It should be the priority of the ongoing operation in Kashmir. At the same time, India must end the agenda of replacing Sufism with Wahabism, while resolving the Kashmir unrest," the Board added.
According to reports, External Affairs Minister Sushma Swaraj will strongly emphasise on Pakistan's involvement in the attack in her UNGA speech on 26 September.
Also Read: Uri attack: India to isolate Pakistan at international forums; Swaraj to raise issue at UNGA
Also Read:Was the Uri attack designed to provoke in the run up to UNGA session?
Condemning the attack, India is planning to give Pakistan the evidence of the four terrorists using Pakistani-marked weapons, food, energy drinks and GPS trackers which they carried to enter Jammu and Kashmir from across the Line of Control.
Also Read: Pakistan should cleanse itself of its terrorists, India tells UNHCR
Prime Minister Narendra Modi held a nearly two-hour meeting with Home Minister Rajnath Singh, Defence Minister Manohar Parrikar, Finance Minister Arun Jaitley, NSA Ajit Doval, Army Chief General Dalbir Singh Suhag and other top officials to discuss India's response.