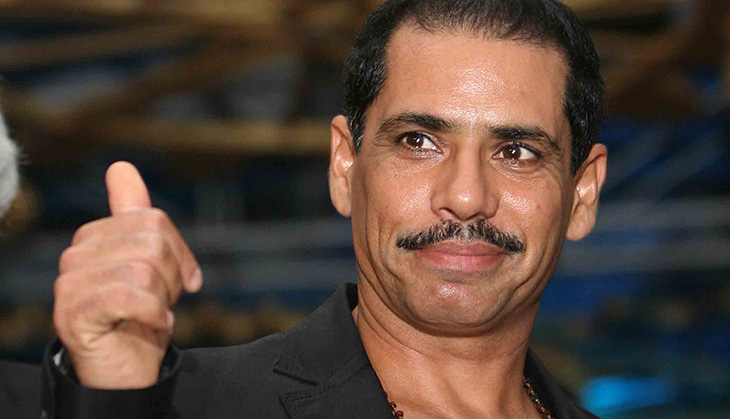 Amid reports of Priyanka Gandhi emerging as the key link in the forging of an alliance between the Samajwadi Party and the Congress, her husband Robert Vadra on Monday chimed in the development saying that Uttar Pradesh will benefit from the dynamic leadership of Uttar Pradesh Chief Minister Akhilesh Yadav and Congress vice president Rahul Gandhi, whom he branded as 'brand icons'.
Taking to his Facebook account, Vadra said that the alliance between Congress and Samajwadi Party is not only an alliance between two parties, but one between two young and dynamic leaders- Rahul Gandhi and Akhilesh Yadav.
"My best wishes to them for the upcoming UP Elections. I am sure that under their dynamic leadership, UP will shine & become extremely progressive. Both youth icons will bring forth immense energy, brilliant ideas & implementation to transform UP into a world class state. Congratulations on the grand alliance!!," read the post.
Vadra's statement comes at a time when speculations are rife about Priyanka contesting the 2019 Lok Sabha polls from her mother and Congress chief Sonia Gandhi's constituency in UP, Rae Bareli.
Earlier, the Samajwadi Party and Congress went into a deadlock over seat distribution, almost putting an end to any alliance between them.
"The Chief Minister (Akhilesh Yadav) had made an offer of 100 seats to the Congress, but they are asking for 120 seats. We told them that we have 234 sitting legislators and there are some others who will also contest. So, we need at least 300 seats for ourselves," SP leader Naresh Agarwal told ANI.
However, reports emerged later that the Congress top brass, including Priyanka had made a last minute intervention and saved the deal.
Congress general secretary Ahmed Patel even tweeted about Priyanka's role in ending the deadlock over the alliance to counter the Bharatiya Janata Party (BJP) in the politically crucial state.
"Wrong to suggest lightweights were dealing on behalf of Congress party. Discussion was at highest level- between CM (UP),GS I/C & Priyanka Gandhi," he tweeted.
Earlier, confirming the alliance, the Samajwadi Party and the Congress vowed to make Akhilesh Yadav the Chief Minister of the politically crucial state yet again while promising to free the state from communal forces.
As part of the alliance, the Samajwadi Party will contest on 298 seats while the Congress will field its candidates in 105 seats.
The formal announcement of SP-Congress alliance came after huge discussions held over by the two sides over the past few days before they agreed to 298-105 formula.
The poll process in Uttar Pradesh begins on 11 February. 73 constituencies in western Uttar Pradesh will go polls in this phase. The filing of nominations for these constituencies will end on 24 January.
Uttar Pradesh is set to have a seven-phase polling between 11 February and 8 March.
-ANI