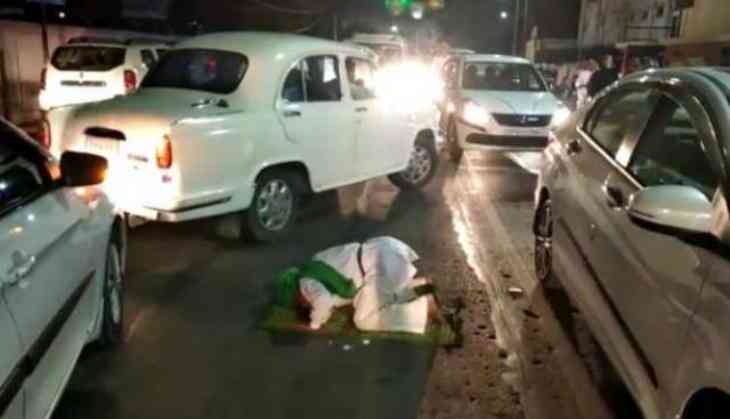 The traffic got halted and a ruckus was created in Lucknow, after a middle-aged man created a flutter outside the Uttar Pradesh chief minister Yogi Adityanath's secretariat on Friday evening by offering prayers or namaz right in the center of the road, with a knife attached on his waist.
He raised slogans against the Prime Minister Narendra Modi and tried to create a scene which became a bit successful, as the police went into a tizzy about what all happened and that too in a moment of seconds.
The Chief Minister Yogi Adityanath was present in the building of secretariat and was attending a meeting with senior officials when the incident happened here on Friday.
The man was later arrested by the Lucknow police at the midnight, who was identified as Rafiq Ahmed, a local cleric, said Kalanidhi Naithani, Senior Superintendent of Police. An FIR was registered against the man.
"He was tracked and arrested for creating nuisance and blocking a road. Further investigations are on," Naithani said.
Taking the incident seriously, the police chief of Lucknow even suspended two constables who were present at the spot for negligence and for allowing the man to offer prayers in the mid of the road.
The secretariat of CM is a high security zone with a lot of police personnel deployed in the area. The incident took place in front of the Secretariat and was being recorded by the television cameras, but not a single officer acted.
"The police personnel deployed at the CM's secretariat said that the person started offering namaz, so they did not take any action or tried to forcibly remove him from the busy road," said Hazratganj circle officer Abhay Mishra.
Also read: Rafale Deal row: Rahul Gandhi to visit HAL in Bengaluru today over Rafale controversy; HAL asks staff not to