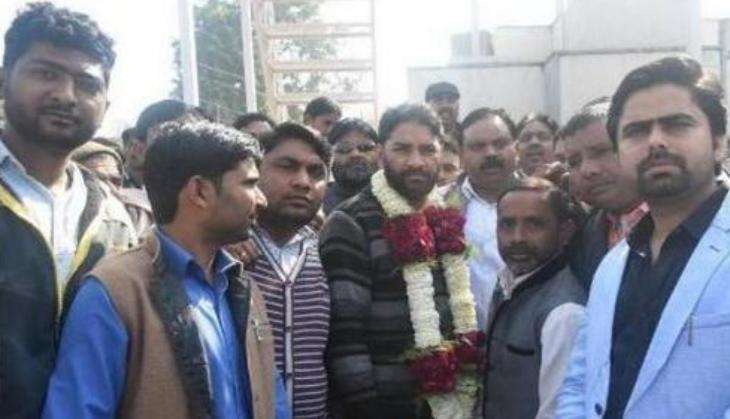 The stench of open sewage is everywhere. Overflowing garbage dumps, cow dung cakes in large mounds and sugar cane waste piled up on the roadsides. 'Swachh Bharat' is alien in these areas.
In the lanes and gully-mohallas of Meerut, there are no two views on which way the 'hawa' is blowing. It's Akhilesh Yadav - with or without his father. Akhilesh, with or without the Congress Party.
If there is something called the 'Muslim vote,' it is going to Akhilesh, regardless of Mayawati giving out tickets to Muslim candidates.
Islamuddin, a fruit seller near ghanta ghar says, "Akhilesh achcha kaam kar raha hai, pehle sey behtar hai yahaan."
When I ask him what has changed for him in the past five years since he says things are "better", he goes blank.
"Electricity," he blurts on being prompted by some random chap who is a Samajwadi Party supporter.
But he gets garrulous while talking about his pet peeve: notebandi (demonetisation).
Demonetisation has been a completely secular weapon. It has hit Hindus and Muslims alike. And very egalitarian. The poor and the middle class, both are bewildered with its equal opportunity offensive.
A shopkeeper near the ghantaghar tells me, "Notebandi ki wajah se dhande mein bohot farak para hai. kam se kam 80 percent ka fark hai. Aur iski wajah se business ek dum chopat ho chuka hai, koi kharidaari nahi ho rahi hai. Logon ki purchasing power khatam ho chuki hai. Unke paas paisa hai nahi. Cash in hand khatam ho gaya hai. Jo kuch unka paisa hai bank mein para hua hai, bank mein se jitna nikalta hai woh sab kha lete hain, lekin kuch cheez agar khareedne ki zaroorat parti hai to usko woh purchase nahi kar paate."
A newspaper vendor tells me woefully nobody reads anymore. He says till two months ago he used to sell about 180 copies of Amar Ujala per day.
Now he barely sells 60 copies. By 11a.m. he has sold just seven copies of Urdu newspapers.
He doesn't stock any English newspapers. Who does he think will improve his lot in life? He shrugs, "it doesn't matter."
Kneading dough for khameeri naans into the tandoor, two brothers tell me they will take the day off on polling day.
Nadeem says, "Hum Baghpat kay hain, vahaan jayenge vote daalnay."
The brothers don't know who the candidates are nor the party they will vote for.
I gingerly ask Nadeem will he vote for the Muslim candidate and if there are two Muslims of the Samajwadi Party and the Bahujan Samaj Party (BSP) then whom will they choose.
The brothers look confusedly, and reply, "jo badey kahenge". What about RLD and the Congress I ask, they giggle.
In an open field near a dairy farm in Sardhana, women are sunken knee deep in cow dung making cow dung cakes.
They ignore the Samajwadi Party candidate, a Gujjar close to the Chief Minister who drives past the slush into a volleyball court next to their dung pit.
Atul Pradhan's SUV has a mounted loudspeaker but no other posters and flags.
In his speech, he praises Akhilesh Yadav and Hindu-Muslim unity.
When I ask him why he doesn't mention Mulayam Singh Yadav's name, is it because the senior Yadav had said that Akhilesh has let down Muslims?
Atul Pradhan retorts, "Yeh ghalat baat hai aapki. Hum toh sab log paidayeshi unkay hain. Aur hamesha unnka sammaan kiya hai."
He lays out a sequence of steps that dear leader Akhilesh has taken to show his loyalty to his father.
Pradhan blames Amar Singh for causing the rift. "Yahan par jahan par mai khada hun, yahan 99 percent log Muslim hain. Ek bhi aadmi, koi Akhilesh Yadav ji kay khilaf ho toh batayein. Hum logon nay kaam janta kay liye kiya hai. Maananiya Mukhyamantri ji nay janata tak suvidhayein pohnchayi hain. Aaj 55 Lakh mahilaon ko pension mil rahi hai. Bijli ka aalam yeh hai ki kis bhi kasbay mein poochengay jahan 16 ghantay, 15 ghantay aati thi, (ab) 22 ghantay light aa rahi hai. Yahan par hii bijli ghar bann gaya hai. Aur pata nahin kitnay bijli ghar light ki vyavastha ko sudharney kay liye kaam kiya. Isi Sardhana kay barabar mein Karnal Highway par 500 karor ka nikal raha hai, kya uspay koi ek vyakti nikal raha hai?"
Samajwadi Party's Pradhan is making the controversial Sangeet Som of the BJP sweat it out in the countryside.
There are rumours that some supporters of Som have been showing CDs of the riots of 2013 and creating a fear psychosis.
But no case has been registered so far and nobody claims to have seen Som distributing it or arranging for any such screening. But people fear Sangeet Som. His reputation preceeds him.
In Siwal Khas, also in the Meerut Tehsil, the BSP candidate Nadeem Ahmed sprints up a ladder to garland a bust of Baba Saheb Ambedkar.
A handful of supporters cheer him on as they wonder which slogans to raise. They settle for "Behan Mayawati zindabad".
Ahmed says he will not ask for votes based on religion or caste. He says quite confidently, "Iss baar poori majority kay saath hum unko paanchvi baar mukhyamantri bananey jaa rahay hain, mazbooti kay saath Behen Ji sarv samaaj ko leke chalney ka kaam karti hain."
Mohammad Ayub is a chartered accountant who works in Delhi now but his vote is in Meerut.
This is the first time that he will be voting in the state election. He says that only Akhilesh Yadav can deliver on his promises because he has age on his side.
Standing next to members of the Meerut Vyapari Sangh, who nod in agreement, Ayub says that his neighbours want communal harmony and encouragement to traders and nothing that the BJP government has done at the centre inspires his confidence.
Meerut, though so close to Delhi, is immune to the political winds of the Indian capital.
It was in this historic city of Meerut that the famous slogan "Dilli Chalo" (March to Delhi) was raised during the Mutiny of 1857.
On 28 January, Meerut is insular in a strange way, more aligned to the capital of Uttar Pradesh than the capital of India.
-ANI