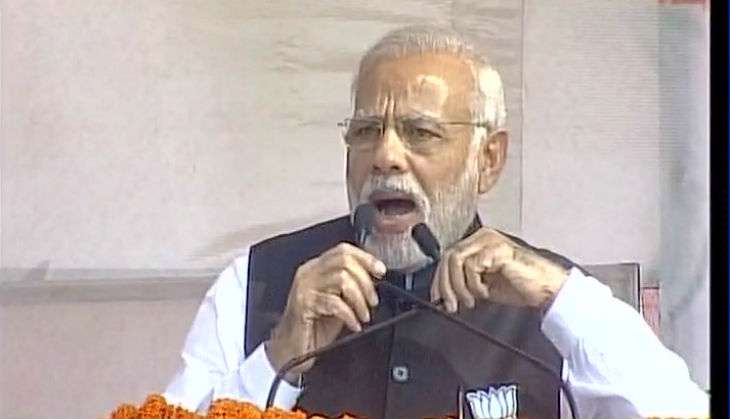 Prime Minister Narendra Modi took a dig at Samajwadi Party on 8 February claiming that the ruling party is sheltering criminals in the state.
Addressing a rally in Uttar Pradesh's Ghaziabad, Modi said, "Samajwadi Party has been sheltering criminals and goons. Today, in Uttar Pradesh, after the sun sets a woman cannot step outside confidently on the streets as they are not safe in the state."
The Prime Minister asserted that the state will only become India's 'Uttam Pradesh' if people will choose the right government.
"This election is to bring development in Uttar Pradesh, which has been on exile for the past 14 years. Ghaziabad is very close to our capital Delhi and it should have been developed like other big cities of the country. This election is not to elect MLAs, but end the 'Vanvas' of 14 years of development," said PM Modi in Ghaziabad.
He further said that rapes and murders are unaccounted for in Uttar Pradesh and the Samajwadi Party is neither worried, nor does it consider it their responsibility.
"The Samajwadi Party, which has been in power for last five years, it is their duty to answer the people of Uttar Pradesh about the work they have done," Prime Minister Modi added.
He also attacked state Chief Minister Akhilesh Yadav and said: "When Akhilesh Yadav became Chief Minister, we thought there would be development in the state since he is young and highly educated, but he destroyed the state in five years."
Asserting that the upcoming state assembly election is to bring development in Uttar Pradesh, Prime Minister Modi stated that if one's intentions are clear, it is not difficult to bring law and order in the state.
"If Bharatiya Janata Party assumes power in Uttar Pradesh we will scrutinise the scams in employment sector and will give jobs to unemployed people," he added.
--With ANI inputs