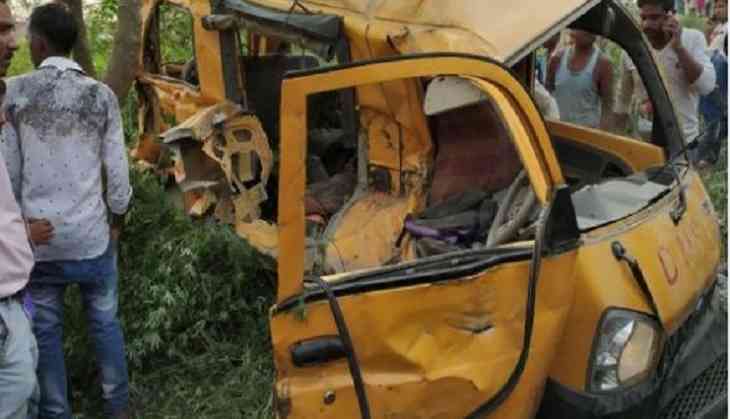 The shocking news has come from Uttar Pradesh's Kushinagar where 13 children have died after their school van collided with a moving train at an unmanned rail crossing today.
According to the reports, there were eight children have been injured in the accident. All the children were the students of the Divine Mission School and at least 13 children died on the spot. Reportedly, the accident took place at around 7:10 am.
As per the Police officials, the collision occurred at unmanned railway crossing in Bahpurva between the school van and train.
#Kushinagar: Look at the condition of the bus after that devastating accident that killed 13 students. Spot visuals. pic.twitter.com/cNckUkJUXG

— Prashant Kumar (@scribe_prashant) April 26, 2018
The accident was so devasted that on the spot 13 children and driver of the van was dead.
However, UP CM Yogi Adityanath expressed his condolences over this catastrophe and also directed the administration to provide all the necessary help and medical aid to the injured. He also declared an ex-gratia of Rs 2 lakhs to the victims and instructed to do the inquiry about how the incident took place.
Reportedly, this is the second school vehicle accident in this month. As on 9 April, 23 children and four adults also died when the school bus driver lost his control and fell into a 100-metre deep gorge at Malkwal area in Kangra district of Himachal Pradesh.
Stay tuned for more updates..
Watch Video:
Also read: Asaram Rape Case Verdict LIVE: Jodhpur Court sentenced life imprisonment to the 'self-styled Godman'