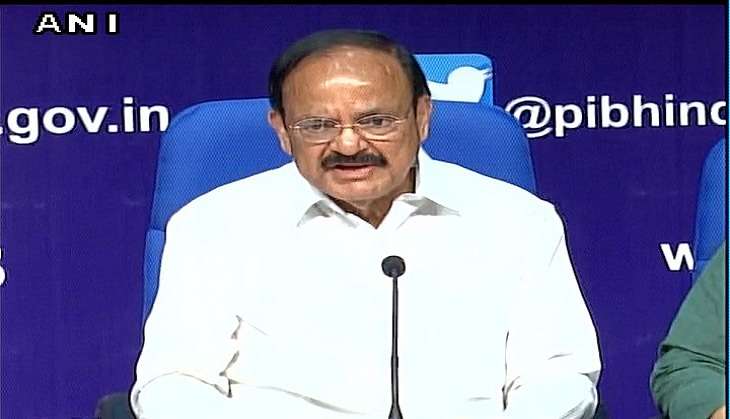 Several Union ministers today took a swipe at Rahul Gandhi for his remark that the Centre was a "complete failure" on job creation front, saying it was indicative of his "disappointment and frustration" at not having a job and suggesting him to join a government-run skill centre to get employment.
Urban Development Minister M Venkaiah Naidu said that the Congress vice president's remark was outcome of his "disappointment and frustration".
Congress is not in a position to stand on its own feet, that is why it has to sit "on the carrier of a cycle" in Uttar Pradesh, he said, referring to the Congress-SP alliance in the poll-bound state.
"He did not get employment what can we do? His party is failing at every stage. He is not in a position to stand on his own feet. Such an old party and it had to sit on the carrier of a cycle in UP. That is why due to his disappointment and frustration, he might have interpreted it like this," Naidu told reporters outside Parliament.
He said that the highest ever allocation to rural job scheme MNREGA was given by this government and the 70-odd initiatives that the government has highlighted are all job oriented and have measures for employment generation.
"Due to political reasons, just to criticise the government, he might have said this as he did not remember anything. So he talked about his own employment and the situation of the Congress party," he said.
After President Pranab Mukherjee's customary address on the first day of the Budget Session of Parliament, Gandhi said outside Parliament that the main question in India today is creation of jobs for young people.
"It is a big issue today to provide jobs for youths in India. Government has failed in this matter. Government is a complete failure in job creation. That's my main point," Gandhi said.
Reacting to Gandhi, Skill Development and Entrepreneurship Minister Rajiv Pratap Rudy said, "If he (Rahul) wants to understand employment and where to get it, it would have been better that the Prime Minister Kaushal Kendras that we are establishing, he can come and get admitted in that Kendra. He would be able to see then, how and where employment is generated and he himself will be benefited."
--PTI