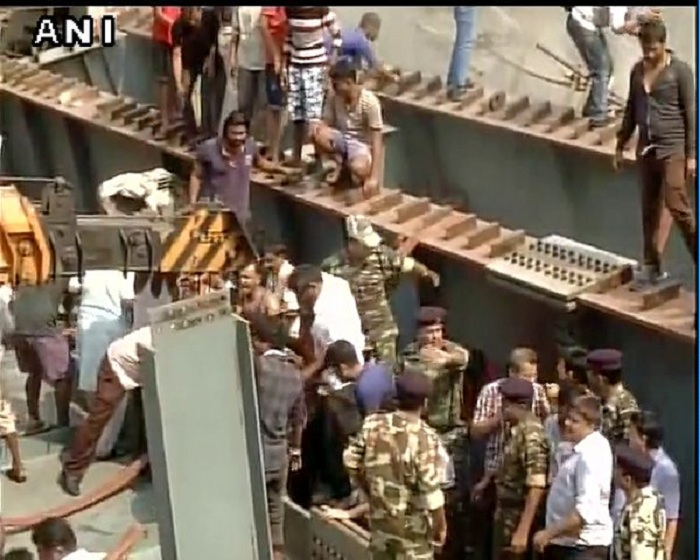 The National Disaster Response Force (NDRF) Director, General OP Singh on Thursday said that saving the lives of people trapped under debris of the collapsed bridge in North Kolkata is his team's top priority.
"I have been told that a 100-metre over bridge has collapsed. Our priority is to save all those who are trapped alive. The most important thing is to evacuate them. We are using victim locating cameras, air-lifting bags and all other equipment needed for this kind of an operation; meanwhile, more teams are being rushed to Kolkata," Singh told news agencies.
Locals present on the scene claim that nearly 150 people are stuck under the collapsed bridge. The incident took place at around noon at the busy Rabindra Sarani-K K Tagore Street crossing near Burrabazar, the trading hub and one of the most congested areas in the city.
"We got to know about the incident, where an under-construction over-bridge collapsed near Ganesh Talkies (Girish Park) in North Kolkata. We immediately contacted the state administration. We have had a conversation with state relief commissioner and we dispatched two NDRF teams, who were already present in Kolkata. They have started their operation," he added.
As many as 14 people have been killed and reports of 78 injured have come in so far, confirmed the Kolkata Police, adding that the death toll could go up.
Meanwhile, the NDRF teams are facing numerous problems with the rescue operations. Here's a gist:
Crowded spaces:
According to reports, the area where the bridge collapsed is very congested, making it difficult for rescue operations to be conducted swiftly.
"Our team is in contact with the West Bengal government. NDRF teams have been dispatched. We will send more NDRF teams and para-military forces if necessary," said MoS Home Kiren Rijiju. "It was a very crowded place. It is very sad news. We will provide whatever support is needed," he added.
Logistical challenges:
Several passenger vehicles, including a bus, were trapped under the debris, as operations were on to clear the rubble and rescue those trapped under. Huge cranes and other rescue vehicles were pressed into service to clear the debris and bring out the injured.
A PTI correspondent who was at the accident site, saw a number of severely injured people lying in a pool of blood. A few were seen trapped under vehicles, concrete and heavy steel girders.
A number of hawkers operate under the flyover which is also used for parking several vehicles.
Delayed rescue operations:
Numerous eyewitness who spoke to news channels have complained about the rescue operations and delays involved. "There should be a very quick response. The rescue operation is very slow. It should be fast and should be done as quick as possible. After that, we can discuss what material was used," an angry eyewitness was quoted as saying.