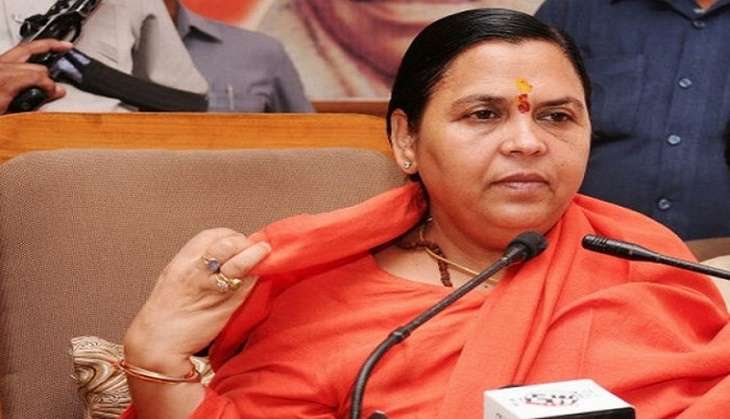 Once a fiery mascot of the Ram temple movement, Union Minister Uma Bharti now wants the issue to be resolved through dialogue.
Bharti, who calls controversial BJP MP Subramanian Swamy as her "hero", said she believes him when he says that the work on the temple in Ayodhya will start by the end of this year.
Bharti ruled herself out as a possible chief ministerial candidate for Uttar Pradesh assembly polls, but voiced confidence that the BJP will be able to form its government in the key Hindi heartland state with Amit Shah at the helm of the party.
On the issue of Ram temple construction, she said, "I respect Swamy very much. He is my hero. I was 15-16 years old when Emergency was imposed and Dr Swamy, George Fernandes were my heroes. For me he is a heroic figure. So whatever he says, I will believe that."
The remarks by BJP's yesteryear Hindutva mascot comes at a time when the party leadership is skirting questions on Ram temple and repeatedly insisting that development will be the party's election agenda in UP, as it seeks to wrest the politically important state from Samajwadi Party. Speaking at an event in Mumbai in April, Swamy had claimed that work to build the Ram temple in Ayodhya would begin by the end of 2016. He had expressed confidence that in 2017, Hindus would celebrate Ram Navami at the Ram temple.
"The issue in the Ram temple movement was whether it was the birthplace of Lord Rama or not. The three-judge bench of Allahabad Hight Court said one thing undisputedly that the dome in the middle is of Ram temple. The Ram temple movement got legal sanction with that declaration. "Now the dispute that remains is regarding the land. There is no dispute now on whether it is Ram Janmabhoomi or not. Movements are not needed to resolve land disputes. It has to be resolved either through a dialogue or a legislation. I feel that the most beautiful solution to Ram janmabhoomi issue can be found through dialogue," she said.
Bharti suggested that parties to the dispute should sit together and saints and religious leaders of both sides should facilitate dialogue between the two communities and tell the court they have resolved the issue. "And a magnificent temple is built there. I am very proud that I took part in the movement, which has also got the stamp of the court that I was right," she said, referring to the Allahabad High Court judgement.
-PTI