Pradhan Mantri Jan Dhan Yojana (PMJDY) is the Union government's flagship financial inclusion programme.
Here is a quick look at the performance of the programme, which was launched on 28 August 2014:
1.The Pradhan Mantri Jan Dhan Yojana is the biggest financial inclusion initiative in the world, and has been recognised by the Guinness Book of World Records.
2. Under the scheme, a total of 21.87 crore accounts were opened till 18 May 2016.
3. A total of Rs 37,775.01 crore has been deposited in the accounts.
4. Here is the list of states which opened the maximum number of accounts under the scheme: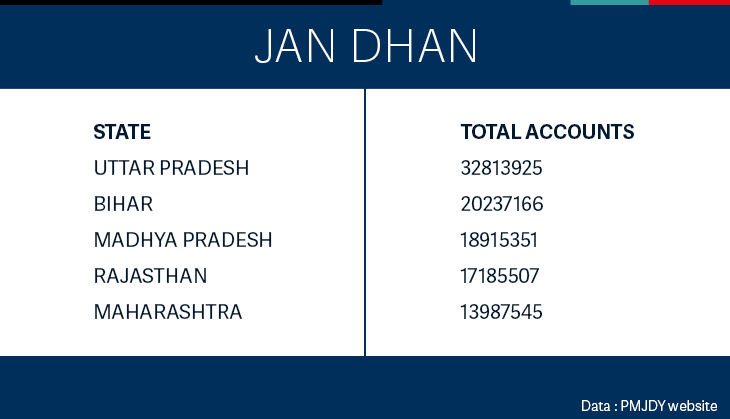 states that opened maximum number of accounts under PMJDY
The information is based upon the data provided by the PMJDY website.While a number of Jan Dhan accounts are opened on a daily basis, the Reserve Bank of India has warned that these accounts are "very vulnerable" to frauds. According to RBI, criminals who gain illegal access to Jan Dhan deposit accounts can use third parties as 'money mules'to launder the proceeds of fraud schemes such as phishing and identity theft.