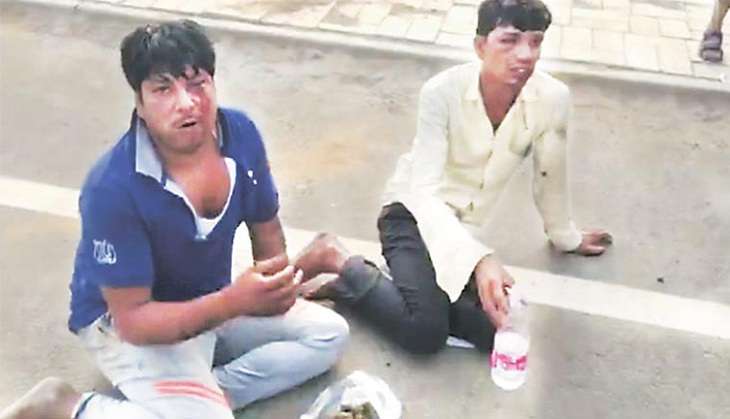 On 10 June, two men suspected of transporting beef were force-fed a concoction of cow dung, cow urine, milk, curd, and ghee on the Kundli-Manesar-Palwal (KMP) expressway.
This incident has reportedly been triggered by alleged altercations that took place in the recent past between gau rakshaks and beef transporters, during which two gau rakshaks had reportedly sustained gunshot injuries.
Dharmendra Yadav, President of the Gurgaon Gau Rakshak dal has claimed responsibility for the act, admitting that volunteers of the group had acted on a tip-off and had intercepted a vehicle carrying "700 kg of beef from Mewat to Delhi", reported the Indian Express. They had then forced the two men aboard the vehicle to consume the panchgavya, to punish, as well as to 'purify' them.
A video has been doing the rounds, that captures the events as they transpired after the vehicle was intercepted by the gaurakshak dal. In the video, the duo can be seen struggling to wash the concoction down their throats with water, as the gaurakshak dal volunteers urged them to gulp down the cow dung while chanting "Gau mata ki jai" and "Jai Shri Ram".
"We had to chase the car for 7 km before we finally managed to stop them near the Badarpur border," Dharmendra Yadav was quoted to have said in the Indian Express report. "When we caught them, they had 700 kg of beef in their car. We made them eat the panchgavya to teach them a lesson, and also to purify them," he said.
The two men, identified as Rizwan and Mukhtiar, were then handed over to the Faridabad police by the gau rakshaks.
"We arrested a driver and a helper, both of who are now in judicial custody. The meat in their car was confirmed to be beef," Anil Kumar, Station House Officer (SHO) of Sarai Khwaja police station was quoted to have said. The two put under arrest as per the provisions laid down under the Prohibition of Cow Slaughter Act.