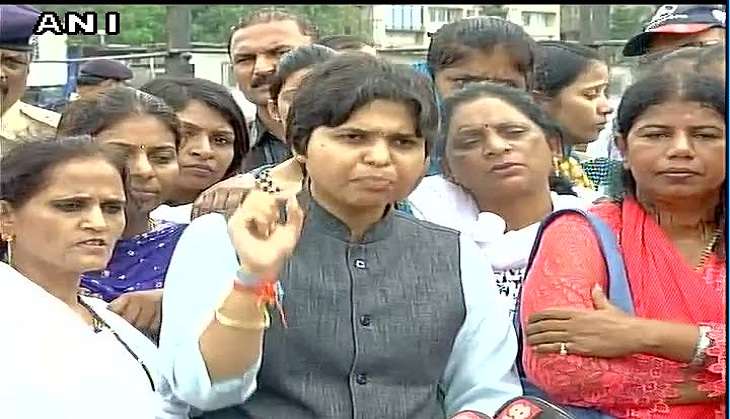 On 28 August, Bhumata Brigade activist Trupti Desai visited the Haji Ali Dargah, and entered its premises to celebrate the recent Bombay High Court judgement that struck down the ban on the entry of women into the sanctum sanctorum of the dargah.
She was jubilant at the fact that she was allowed to enter the premises along with her band of supporters without any resistance. She, however, did not venture into the sanctum sanctorum.
"Last time, when we had gone to the Haji Ali Dargah, we prayed for the verdict of the high court to be on our side. We have won there. We have got the blessings of Haji Ali Baba like we had got the blessings of God Shani. We will offer the holy 'chadar' there and take blessings," Desai told ANI earlier in the day.
She said they would request the trustees not to go to the Supreme Court in connection with the matter.
Really happy that no one objected us from entering Haji Ali Dargah, so many Muslim women supported us: Trupti desai pic.twitter.com/qWeABJSaOc

— ANI (@ANI_news) August 28, 2016
"It is the 21st century, you should allow women to go to the inner sanctum. After six weeks, we will again go there. No one should object, as we won't hamper the law and order situation. Just like we offered prayers to Shani Dev, we will peacefully go to the Haji Ali Dargah and take blessings," she added.
The Bombay High Court had on 26 August lifted the ban imposed on women from entering the sanctum sanctorum of the dargah.
The Haji Ali Dargah Trust imposed the ban in 2012 citing religious traditions. Authorities then defended the ban, saying that the entry of women in close proximity to the tomb of a male saint would be seen as a grievous sin in Islam.
Earlier this year, women managed to break the gender bias and gained full access to the Shani Shingnapur temple in Ahmednagar district of Maharashtra.
--with ANI inputs