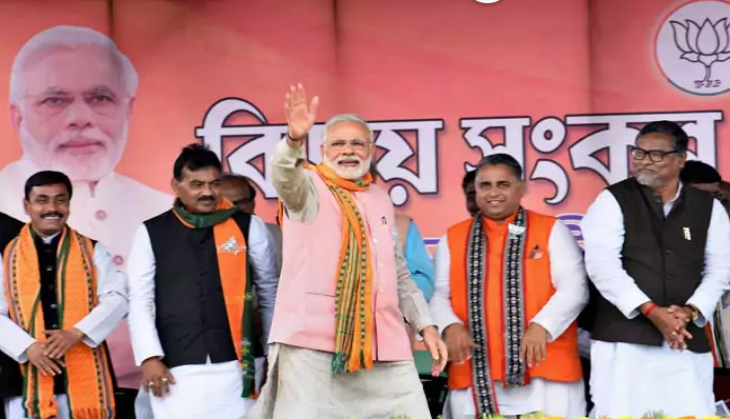 The votes counting in the three north-east states- Tripura, Meghalaya, and Nagaland has begun. The BJP is giving a tough competition to the Left Front and Congress. The BJP has aimed to take all the three north-east states, and are confident of its performance after their massive win in Assam and Manipur in last two polls.
The leading Left Front has a government in Tripura under CM Manik Sarkar, a longest serving chief minister in the country. The Meghalaya has a government of the Congress party led by CM Mukul Sangma and in Nagaland, the Naga People's Front with BJP's support is ruling under the Chief Ministership of TR Zeliang.
Today the complete scenario of the three states could change, and it will be interesting to see to which party the public pours their maximum support to form a government for next 5 years. The results of the 3 states assembly's will be declared today.
Here are some of the main candidates to watch for are: Mukul Sangma (Meghalaya), Biplab Kumar Deb (Tripura), Agatha Sangma (Meghalaya), Neiphiu Rio (Nagaland), TR Zeliang (Nagaland) and Manik Sarkar (Tripura).
16:39(IST) The ruling Nagaland People's Front (NPF) is ready to form a new government in the state with the BJP if it comes forward for a post-poll alliance, says Chief Minister TR Zeliang said.
16:23 (IST) "These elections are an omen for what to expect in the Karnataka and then the upcoming national elections... Today we are seeing a true pan-India rise of the BJP. It used to be known as a party of the Hindi belt but that has changed now,"Amit Shah, BJP president
16:14 (IST) BJP National chief Amit Shah thanks BJP's North East workers for their struggle to establish BJP
16:04 (IST) People of Meghalaya, Nagaland and Tripura have spoken! I thank the people of these states for supporting the good governance agenda and 'Act East Policy' of @BJP4India & our valued allies. We remain committed to working towards fulfilling the dreams & aspirations of the people, PM Modi tweeted.
16:01 (IST) "Time and again, election after election, the people of India are reposing their faith in the positive and development oriented agenda of the NDA. People do not have the time or respect for negative, disruptive and disconnected politics of any kind," Prime Minister Narendra Modi tweeted.
15:25 (IST) Narendra Modi, Amit Shah expected to address party workers at 5
15:017 (IST) Amit Shah reaches BJP headquarters in Delhi amid rousing welcome
#Delhi: BJP President Amit Shah arrives at the party headquarters amid celebrations. #TripuraElections2018 pic.twitter.com/bNXEnPJSNU

— ANI (@ANI) March 3, 2018
15:15(IST) "The dream roadmap of Prime Minister Narendra Modi ji for north east India has won the heart of the people. A new political landscape led by BJP is firmly established in the region now. Good for north east, good for India," Kiren Rijiju, Minister of State For Hom
14:34 (IST) The BJP has won its first seat in Meghalaya: Election Commission data. Results for 26 of the 59 seats have been declared in Meghalaya.
14:04 (IST) Biplab Kumar Dev, BJP's chief ministerial pick for Tripura, wins his seat in Banamalipur assembly constituency agaisnt CPM in Agartala.
14:02 (IST) Biplab Kumar Deb says, "I expected a win of this margin." A confident Deb, who is also being touted as the probable new chief minister, thanked the party cadre.
As Lotus is set to bloom in Tripura, here's an exclusive interaction with @BjpBiplab who also coined the slogan 'Chalo Paltai'#Janadesh2018 #TripuraElection2018 pic.twitter.com/eIneXrb9sO

— Doordarshan News (@DDNewsLive) March 3, 2018
13:39(IST) In a way, the entire northeast is now with the BJP. Initially, we used to say "Congress mukt Bharat' now I think we can say 'Vaampanth Mukt Bharat" also, says Union Minister, Ravi Shankar Prasad
13:38 (IST) Tripura: The BJP is leading in 32 seats while its ally the Indigenous People's Front of Tripura is leading in seven seats. The CPI(M) appears to have got 19 seats.
13:12 (IST) "Election is election. Sometimes we get unexpected results. But we are confident we will get majority along with our allies. We are continuing our alliance (with BJP), we have not parted at any point in time. I have two ministers in my cabinet from the BJP," T. R. Zeliang, Chief Minister of Nagaland
13:01(IST) Biplab Kumar Dev, 49, is among BJP's chief minister picks for Tripura. The former RSS volunteer is also the BJP's youngest chief in any state.
12:56 (IST) "It's a huge vindication, gratification for us. It marks the end of the politics of exploitation of weaker sections, of appeasement and creating a false image of BJP. Tremendous effort has gone into explaining to the people that we are one of you," BJP's Jitendra Singh on Tripura results
12:54 (IST) Remarkable performance by @BJP4India today, the way they campaigned, changing their rhetoric on issues like beef ban etc with a clear fire to win. That's the fire lacking in the opposition. Meanwhile, the Left heading into oblivion, Nidhi Razdan tweeted
12:49: (IST) "This is nothing new. For 40 years I have seen the north east lean towards the party in power at the centre. But in Meghalaya, it seems we will be able to retain the state,"Ashok Gehlot, Congress
12:14 (IST) BJP and ally IPFT surge ahead of the Left Front in Tripura, lead in 37 seats out of 54 for which trends available.
12:11(IST) "Wait for the results, we are confident we will cross the half-way mark in Meghalaya. The BJP is sending its leaders over there for some 'shopping'. The shameless use of money power is remarkable," says Pawan Khera, Congress
12:04 (IST) In Tripura, BJP surged ahead of the Left Front government and is leading in 41 seats. CPM is ahead in 16 seats. The sudden twist in the numbers for Tripura has come as a major boost for the saffron party.
In Meghalaya, Congress leads in 18 seats, NPP is ahead in 9 seats and BJP in 7.
In Nagaland, BJP+ is leading with 28 seats while NPF is ahead in 25 seats.
11:48 (IST)
Yogi Adityanath hails 'important day in Indian politics'
BJP is all set for a historic win in #Tripura, I would like to congratulate PM Modi, Amit Shah ji and our party workers. Even our performance in #Nagaland and #Meghalaya is historic. Important day in Indian politics: UP CM Yogi Adityanath pic.twitter.com/ixEajcVZ61

— ANI (@ANI) March 3, 2018
11:40 (IST) Ram Madhav addresses the media
This is a revolutionary result, all due to the blessings of Tripura Sundari Mata and people of the state and the hard work of PM Modi and party workers: Ram Madhav, BJP," says BJP national general secretary Ram Madhav
11:28 (IST) 'Alliance with BJP could have been suicidal': Himanta Biswa Sarma
"Alliance with IPFT could have been suicidal or have give us a huge advantage, but Amit Shah was sure it would get good results. Many people did not want the merger, but the BJP president was in favour and that has helped. If Shah is a student of postgraduation, Rahul Gandhi is in nursery in terms of politics," said Himanta Biswa Sarma, the man behind the BJP's performance in Tripura.
11:11 (IST) Meghalaya: Victory of Lyngdoh
Former Meghalayan cabinet minister Ampareen Lyngdoh (INC) retains her constituency of East Shillong by a huge margin.
11:07 (IST) "It will be a landslide victory. After one hour it will prove to be a tsunami. We will form the government with two-thirds majority,"Sunil Deodhar, BJP
11:01 (IST) Meghalaya: Mukul Sangma (INC) wins in Songsak, Cherak Momin (INC) wins Kharkutta.
10:41 (IST) Meghalaya: BJP leader and minister of state (home affairs) Kiren Rijiju said that the BJP, UDP and NPP will together form the government in Meghalaya.
10:35 (IST) Tripura: BJP+ ahead in 32 seats; Left 25
Nagaland: NPF+ ahead in 25 seats; BJP+ ahead in 31 seats
Meghalaya: Congress ahead in 25 seats; NPP leads in 14, while BJP is ahead in 5 seats
The trends in all three states point to a new political direction, it will have an effect on national politics as well. We are confident of forming Govt in all three: Kiren Rijiju,MoS Home #Tripura #Meghalaya #Nagaland pic.twitter.com/QYnbZWGVOq

— ANI (@ANI) March 3, 2018
10:19:(IST) "We need to wait for the third and fourth rounds of counting. It's too early to jump to conclusions... People of Tripura will stop the communal campaign of the BJP," CPI(M) leader Brinda Karat
09:56 (IST) Meghalaya: Mukul Sangma, Agatha Sangma and James Sangma leading from their constituency.
09:55 (IST) Nalin Kohli, BJP: "In Nagaland, the results so far are on postal ballots. In Meghalaya, I'm not disappointed yet. The BJP is No. 2 in several seats."
09:41 (IST) Ram Madhav confident of BJP's win in all 3 northeastern states
Seeing the earlier trends:, I feel that in Tripura BJP is going to do very well In Nagaland too, our alliance is doing very well and Congress is trailing in Meghalaya. The three results of North East are going to be very good for BJP: Ram Madhav, BJP pic.twitter.com/66V7BPCXDn

— ANI (@ANI) March 3, 2018
09:35 (IST) Trends till 9.30 am
Tripura: Left ahead in 28 seats; BJP ahead in 21 seats
Meghalaya: Congress leads in 15 seats; NPP is ahead in 7 seats and BJP is leading in just one seat
Nagaland: BJP+ ahead in 18 seats, while NPF+ is ahead in 34 seats

Also read Tripura Assembly Election: This time it is The Leading Left Front-CPI(M) vs Bhartiya Janta Party
08:04 (IST) Votes counting has begun in all the three states -- Meghalaya, Nagaland and Tripura.
Visuals from inside a counting centre in Agartala #TripuraElection2018 pic.twitter.com/bl6vg5nErc

— ANI (@ANI) March 3, 2018