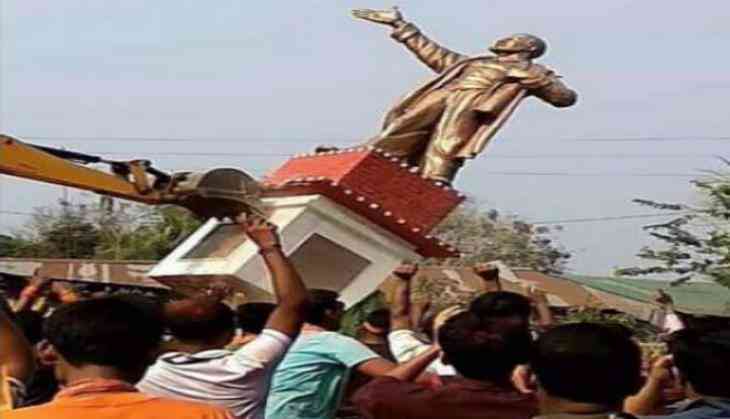 After of the Left Front's debacle in Tripura polls, BJP supporters bulldoze a statue of the Communist icon Vladimir Ilyich Ulyanov, who is also known as Lenin with the help of a JCB amid cries of 'Bharat Mata Ki Jai.'
The Lenin statue which stood in Tripura's extreme south at the centre of the College Square from last five years was knockdown on Monday, at 2.20 pm, just after 48 hours of the assembly results were announced, celebrating BJP's victory in the state. The statue was installed after the victory of Communist in 2013.
#WATCH: Statue of Vladimir Lenin brought down at Belonia College Square in Tripura. pic.twitter.com/fwwSLSfza3

— ANI (@ANI) March 5, 2018
The CPI(M), the party that ruled for 25-years in the state, after losing power describe the incident as an example of 'Communism phobia,' While BJP claimed that the statue was brought down by the people 'oppressed' by the Left's rule.
"Eyewitnesses told me that after the statue fell, its head was dismembered from the body. And then, the BJP workers played football with Lenin's head,'' claimed Tapas Datta, CPI(M)'s Belonia sub-division secretary.
South Tripura SP Ipper Monchak said the JCB driver, Ashish Pal, was held by police on Monday evening and was left off on bail. "The statue remains where it has fallen. It will be removed by police tomorrow and given to the municipality for storage," said Monchak.
According to CPI(M)'s Datta, the 11.5-ft fiber-glass statue was sculpted by local artist Krishna Debnath at a cost of Rs 3 lakh. It was installed as the party began its 21st year of rule in 2013.
CPI(M) blamed Raju Nath, BJP south district secretary for having planned the incident, said the statute fell because of an "overflow of anger".
"For years, there has been resentment against this statue of Lenin. It was built by the municipality and funded by the taxpayers' money. Why should the taxpayer have to finance a statue of Lenin? Even if it was a statue of our former CPI(M) chief minister Nripen Chakraborty, nobody would have touched it — he was one of us and belonged to the country. But what does this foreigner Lenin have to do with our people?'' said Nath.
Also read: Biplab Kumar Deb: All you need to know about BJP's 'Chanakya' for Tripura Assembly
In 2018 Tripura Assembly elections, BJP's victory has brought to an end of 25 year-long rule (20 years uninterrupted) of the Left Front in the state. The BJP won 35 seats on its own. Its ally, the Indigenous People's Front of Tripura, was victorious in 8. The BJP, which contested in 51 seats, has secured 43 percent of the votes. The IPFT got 7.5 percent votes.