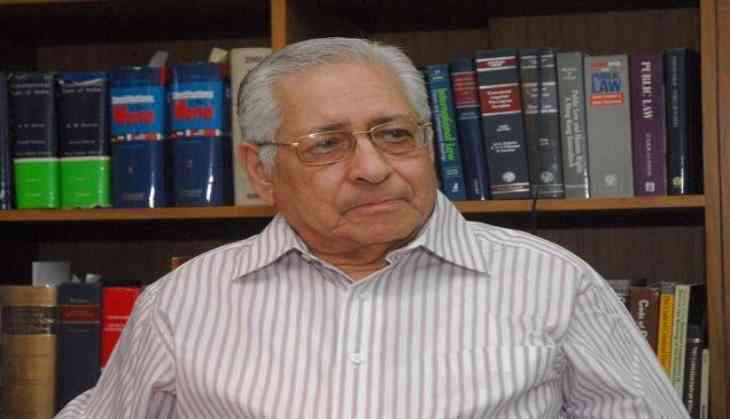 Terming the Supreme Court's ruling on triple talaq as progressive, former Attorney General Soli Sorabjee on 22 August said that the ruling will put an end to the menace, where Muslim women were just unilaterally, arbitrarily divorced.
Sorabjee urged for implementation of the ruling both in letter and spirit.
"It is a very good judgment. The ruling has upheld the right to equality, dignity of Muslim women. I am happy with the judgment. It is a very progressive judgment. The ruling puts an end to the way Muslim women were just unilaterally, arbitrarily divorced. The order must be followed both in letter and spirit," said Sorabjee.
Earlier in the day, the Supreme Court struck down the Triple Talaq practice as 'unconstitutional,' by a 3:2 majority.
The five-judge constitution bench, headed by Chief Justice of India (CJI) J.S. Khehar, deciding on the verdict, was seemingly split on the legality of the practice.
Justice Nariman, Justice Lalit and Justice Kurien opposed the view of Justice Nazir and Chief Justice of India J.S. Khehar and dubbed the practice of Triple Talaq as unconstitutional and unislamic.
The Supreme Court further asked the Union Government to formulate a new legislation within six months.
The apex court reportedly referred to the abolition of triple talaq in the Islamic countries and asked "why can't independent India get rid of it."
The decision came soon after the apex court resumed the hearing on the matter on Tuesday morning.
CJI Khehar, while pronouncing the judgement, however, upheld the practice and said, "Talaq-e-biddat is not violative of articles 14, 15, 21 and 25 of the Constitution."
The CJI, further using his power under Article 142, directed the Union of India to form a proper legislature regarding 'talaq-e-iddat.'
CJI Khehar said that all parties must decide keeping politics aside.
The constitution bench had reserved its verdict on 18 May after a six-day marathon hearing.
During the hearing, the Centre had assured the apex court that it would come out with a law to regulate marriage and divorce among Muslims if triple talaq is upheld as invalid.
Rohatgi also conveyed to the apex court bench that triple talaq violates Muslim women's right to equality within the community, and also within the country
Earlier in the hearing, the apex court refused to hear all the three cases of polygamy, nikah and halala at once, saying it will focus on one matter at a time.
The Centre, earlier on 11 May, told the apex court that it opposes the triple talaq practice and wants to fight for women equality and gender justice.
Various petitioners had knocked the doors of the apex court seeking to strike down triple talaq.
-ANI