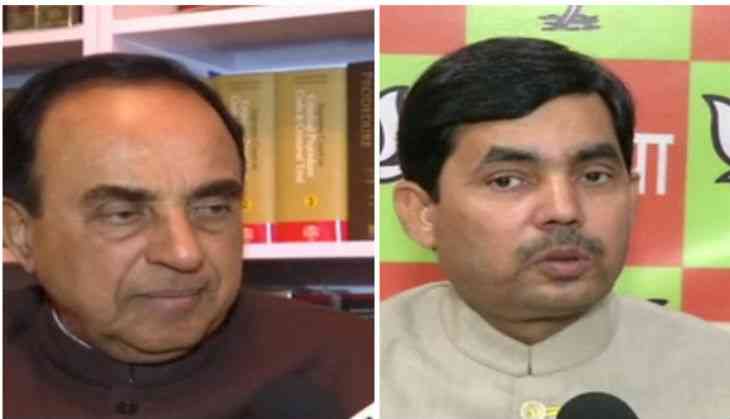 The Bharatiya Janata Party (BJP) on Thursday said that the triple talaq bill should be seen from the perspective of women's right rather than religion.
Speaking to ANI, BJP leader Shahnawaz Hussain said, "No ruckus should be created over the triple talaq bill and it should not be seen from the perspective of religion rather from the prospective of women rights. Everyone should support this bill."
"The Triple Talaq Bill that our government is coming up with is done keeping in mind the rights of Muslim women. The government is doing its job," added Hussain
BJP leader Subramanian Swamy almost agreeing with his party member said that Triple talap leads to the destruction of women.
"Our Constitution neither follows Quran nor any other religious books, if triple talaq is immoral than Government has the right to intervene and bring in a Bill. Triple Talaq naturally leads to the destruction of a woman and that is why we say no to it," said Swamy.
"If men and women are not equal then it is immoral, just by writing talaq three times on message does not led to a divorce," added Swamy.
The Muslim Women (Protection of Rights on Marriage) Bill 2017, which seeks to criminalise the practice of triple talaq, is expected to be tabled in the Parliament by Union Law Minister Ravi Shankar Prasad on Thursday.
The draft bill says, "Any pronouncement of talaq by a person upon his wife, by words, either spoken or written or in electronic form or in any other manner whatsoever, shall be void and illegal".
There is also a provision of imprisonment for a term, which may extend to three years and fine for violators. The draft bill also envisages entitling divorcee Muslim women for maintenance.
It also has a provision for the divorcee Muslim women to have the custody of their minor children. The offences under the purview of this bill will be cognisable and non-bailable.
The Bill shall extend to the whole of India except Jammu and Kashmir.

- - ANI