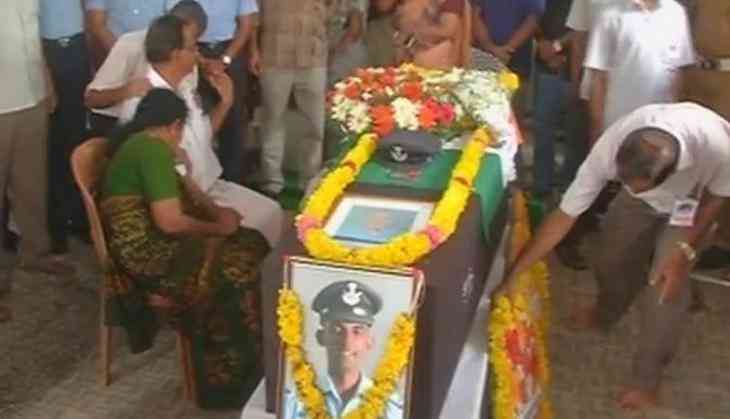 Tribute paid to Sukhoi-30 IAF pilot (ANI)
Floral tributes were paid to Flight Lieutenant Achu Dev, a pilot of the recently crashed Sukhoi-30 IAF aircraft.
Earlier in the day, the mortal remains of the pilot reached his residence in Trivandrum's Pongumoodu.
Earlier on Wednesday, the Air Force officials in New Delhi released an official press release stating that Achu Dev, and D. Pankaj met with fatal injuries.
"Sqn Ldr D Pankaj and Flt Lt S Achudev, the pilots of the Su-30 aircraft sustained fatal injuries when the aircraft crashed approximately 60 km from Tezpur Airbase on 23 May 17. Analysis of the Flight Data Recorder of the aircraft and certain other articles recovered from the crash site revealed that the pilots could not initiate ejection before the crash. The wreckage of the aircraft was earlier located on 26 May 17 after continuous search operation in the area," said the Air Force press release.
A Court of Inquiry has already been ordered to investigate the cause of the accident of the IAF Sukhoi-30 MKI jet that went missing with two pilots onboard on Tuesday shortly after taking off from the Tezpur Salonibari Air Force station on a routine training sortie.
Director General of Police Sandeep Goel told ANI that though the wreckage including black box was recovered on Friday morning but the fate of the crew was still not known for which the forces deployed in West Kameng district were asked to double up their efforts.
The aircraft had lost radar and radio contact near the China border 40 minutes after its take-off and declared "overdue" and a search and rescue operation was launched on Tuesday afternoon to locate the aircraft and the pilots, according to the Defence PRO.
"Aerial search was carried out in a massive way around the last-known position of the aircraft, but incessant rain and dense clouds seriously hampered the search operations in air and ground as well," he had said, adding an IAF had ordered a court of inquiry on Friday to probe the cause of the accident.
Earlier, the wreckage of IAF Sukhoi-30 MKI jet was found in thick forests around 60 kilometers from Assam's Tezpur, where it lost radar contact with the base.
-ANI