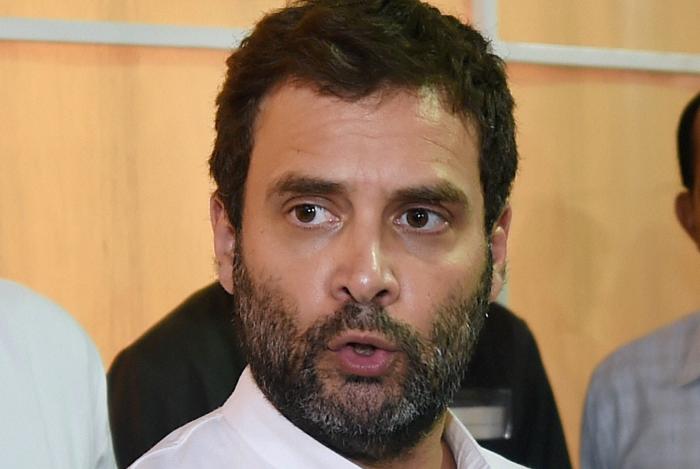 The usually vague 45-year-old 'youth' leader of the Congress party, Rahul Gandhi, was nothing like his usual self in the Lok Sabha today. While addressing the Parliament, RaGa was eloquent to the point of disbelief. The jokes will have to be saved for another day because the politician we saw today, was Rahul Gandhi version 2.0.
He spoke about sedition charges on JNUSU President Kanhaiyya Kumar, on the Patiala House beating - of students and the media - about the situation in Nagaland where a 'peace deal had been signed' with Naga insurgents, and about the need for Prime Minister Modi to listen to his own ministers as well as the Opposition.
Whether you agree with him and his politics or you don't is immaterial, that Rahul managed to get the ruling party to listen to him needs to be applauded anyway.
Here are the key takeaways from his speech that the government would do well not to ignore.
There's Modi Ji's 'Fair and Lovely Yojna', kale dhan to kaise gora banaya jaye
I want to speak a little bit about religion. Tell me which book says that we should thrash our teachers? Why were JNU teachers, students and the media beaten up outside the Patiala House courts? And when they were, why did your government not even say a word?
You have been taught by your RSS teachers that there's only one truth in the universe - your own.
PM can't run the country based on just his own opinion. Country is not the PM, and PM is not the country.
PM said that he'd solved the Nagaland crisis. Our Chief Ministers had not briefed us about anything, so when we called them, they said they hadn't heard anything of the sort. Where has it (the accord) gone now? Gone with the wind?
PM just has to listen to his country, listen to Rajnath Singh ji, Smriti Irani ji, Sushma Swaraj ji. Listen to your MPs. We are not your enemies, listen to us as well, we don't hate you. Just give the people the dignity of their word and listen to them.
--
Edited by Aishwarya Yerra