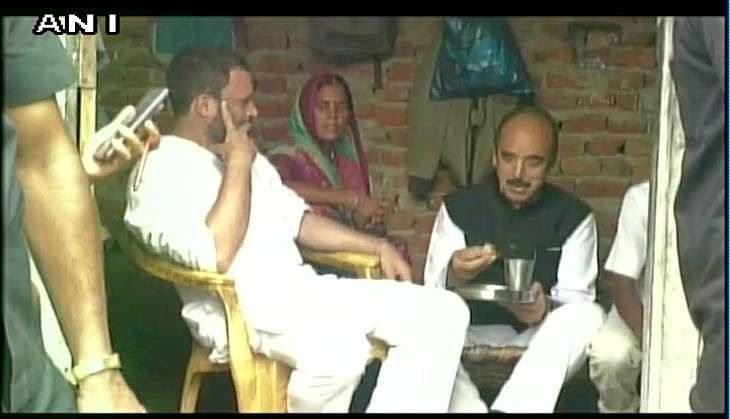 As a part of the Congress' campaign for the upcoming Uttar Pradesh Assembly elections, Congress vice-president Rahul Gandhi visited the Dalit community in the Bada Gaon village in Mau district.
Some of the residents of the locality - which is home to over 150 Dalit families - reportedly went out of their way to make special arrangements for his visit.
A Dalit family reportedly borrowed money to prepare food for the Congress scion. The family borrowed over 10 kgs of flour from a relative's house and other food material from the neighbours in order to prepare food for Gandhi and the party workers accompanying him.
"Rahul Gandhi was like a God to us so we had to prepare no matter what. Will repay the debt somehow," a member of the family told ANI.
When Gandhi asked the family about the problems they were facing, he was told that they were reeling under heavy debt. The family told Gandhi that their children were forced to give up on their education as they could no longer afford it. According to reports, he was not told about the fact that the family borrowed money for food.
On 11 September, Gandhi and senior party leader Ghulam Nabi Azad stopped by a Dalit family's house for lunch at Bada Gaon. The family served them gur (Jaggery), water, roti and potato chokha (mashed potatoes).
Gandhi's visit to Bada Gaon village is a part of his month-long 'kisan mahayatra' to highlight the plight of farmers in the poll bound Uttar Pradesh.
Gandhi's Khaat Sabha campaign with Uttar Pradesh farmers took a hilarious turn yet again on 14 September, when the locals began decamping with khaats (cots) from the venue, this time in Mirzapur, despite a specific announcement made to not take them away.
Also Read: Khaat fiasco: People run away with cots yet again during Rahul Gandhi's rally in Mirzapur
Gandhi also visited Ayodhya as part of his UP tour, where he offered prayers at the Hanuman Garhi Temple, the first ever visited by a member of the Nehru-Gandhi family since the demolition of the disputed structure in 1992.
Also Read: Rahul Gandhi visits Ayodhya, a first for a Gandhi since '92; avoids 'shilanyas' site