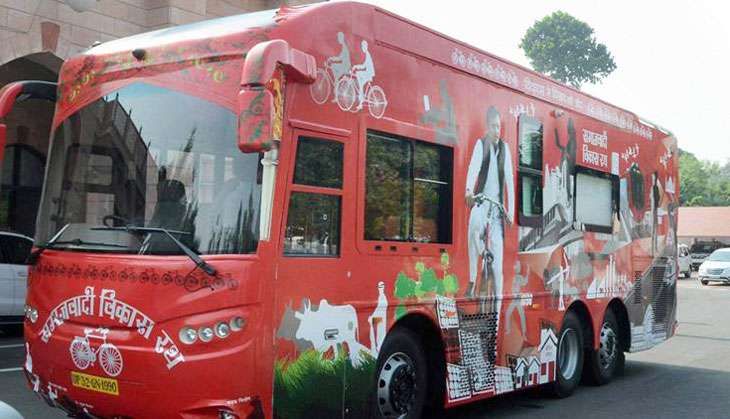 Chief Minister Akhilesh Yadav, on 3 November, during his rath yatra, switched vehicles shortly after his long, big, 10-wheeled fancy Mercedes bus-rath broke down.
As the rath yatra started, barely covering a kilometer, the bus halted due to some technical fault. In order to continue his yatra, Yadav, shifted to his official SUV. The yatra was earlier in the day flagged off by SP supremo Mulayam Singh Yadav.
However, many are wondering how the red Mercedes rath looked like from the inside. According to reports, the bus was engineered with bullet proof glasses with two sections. The office area would be the place where the CM can hold a meeting with around 5-6 persons. The other area comprises a kitchen, reclining area, and plush washroom.
Adding to the luxury, it has modern acoustic system and an elevator which would take the CM to the roof to interact with a larger audience. Also, a network-enabled internet facility with 4G speed to keep the twitter-savvy CM always connected, which would help him to make video calls from the rath, which was customised at a cost of Rs 5 crore, reported a news agency.
--with PTI inputs