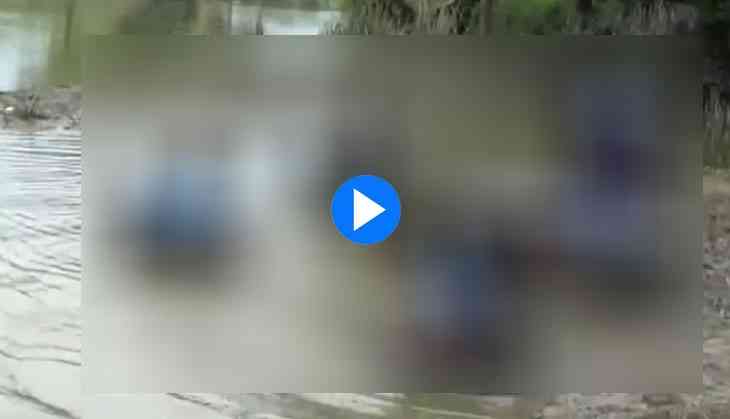 You all have listened from your grandparents that they used to go to their schools and also even crossed the rivers. However, these discussions are now past because our country has made a progress a lot and now we have a lot of transportation facilities through which we can travel from one place to another. Even, the Indian government also taking all possible steps to improve the education system of India as well. But a shocking incident come to light from Assam where students go their school after crossing a river.
Yes, a video is getting viral on social media in which some students of a primary government school in Assam's Biswanath district are still finding difficulties to go for study. After watching the visuals, it seems like that their no development in the district. Because these primary students used aluminium pots to reach their school/
One side our government is talking about the progress and the country's development but, on other hands, there is still many places like Biswanath where the condition is not good.
See the video:


#WATCH Students of a primary govt school in Assam's Biswanath district cross the river using aluminium pots to reach their school. pic.twitter.com/qeH5npjaBJ

— ANI (@ANI) September 27, 2018
However, Bharatiya Janata Party's (BJP), Biswanath MLA Pramod Borthakur has called the incident 'shameful while talking to the news agency ANI.
"It worries me that the students cross the river using aluminum pots as there is no bridge in the area. They earlier used makeshift boats made from Banana trees," J Das, teacher at the school in Biswanath district's Naduwar area, said.
Also read: Bihar: 3 coaches of Darbhanga-Kolkata Express derails near railway crossing in Bihar; rescue underway