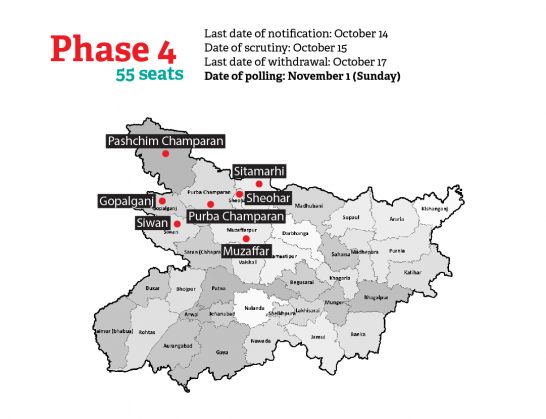 1 November will see voting for 55 seats in the penultimate phase of the Bihar election, with the stakes riding high for the Bharatiya Janata Party as it had along with its then ally JD(U) bagged the majority of seats in the last Assembly polls.
BJP had won 26 out of 55 seats spread across seven districts of Muzaffarpur, East Champaran, West Champaran, Sitamarhi, Sheohar, Gopalganj and Siwan in the 2010 Assembly polls. Its then ally JD(U) had emerged victorious in 24. RJD had won 2 seats and independents 3.
But the scenario has changed this time. From the grand secular alliance camp, RJD has now fielded candidates in 26 constituencies, followed by the JD(U) in 21 and Congress in 8.
On the NDA side, BJP has fielded nominees in 42 seats in this phase, LJP in five, and the Hindustanti Awam Morcha and Rashtriya Lok Samata Party (RLSP) in four seats each.
An electorate of 1,46,93,294 will be able to cast their vote in 14,139 polling stations on 1 November to elect their representatives from 776 candidates, of which 57 are women.
Here are the key clashes that would make this phase a nail biting contest:
Sursand: RJD's Sayad Abu Dojana vs HAM's Shahid Ali Khan
Sursand town in Sitamarhi district will see a very interesting fight between two Muslim candidates - RJD's Sayad Abu Dojana and HAM's Shahid Ali Khan. Even more interesting is the story of Shahid Ali Khan who was accused of being a terrorist by the BJP when the party broke its alliance with Nitish Kumar's JD(U) in 2014.
Nitish's former minister for minority welfare was accused by the BJP of having links with terrorists. However, today, he is an ally of the party. And the BJP is campaigning for the him with much gusto.
Sitamarhi: RJD's Sunil Kumar vs BJP's Sunil Kumar
Sitamarhi is a traditional BJP stronghold. And the Sita connection is what makes this constituency so special. Interestingly, both the heavyweight candidates from this constituency share the same name. RJD's Sunil Kumar and BJP's Sunil Kumar are up against each other in the constituency. BJP legislator Sunil Kumar Pintu was the tourism minister when his party was in alliance with the ruling JD(U) for eight years. As the tourism minister he had promised the construction of Ramayana Circuit around Janki Sthaan, a temple in the district headquarters, Sitamarhi, where Sita is believed to have been born. However, the project is yet to take off.
Bettiah: INC's Madan Mohan Tiwari vs BJP's Renu Devi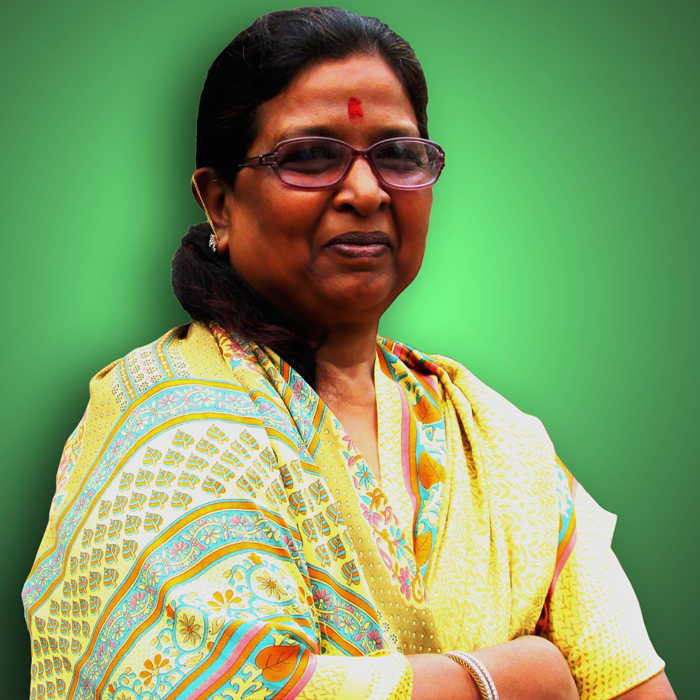 Here the fight is between the outsider and the local. Three-time sitting MLA Renu Devi of BJP is facing a stiff fight from Madan Mohan Tiwari of Congress on the Betiah seat. In 2014, Renu Devi was appointed the new vice-president of BJP (where) by party president Amit Shah. She was the art, culture and youth affairs minister in Nitish Kumar's cabinet between 2005 and 2010.
Bochahan: JDU's Ramai Ram vs LJP's Anil Kumar Sandhu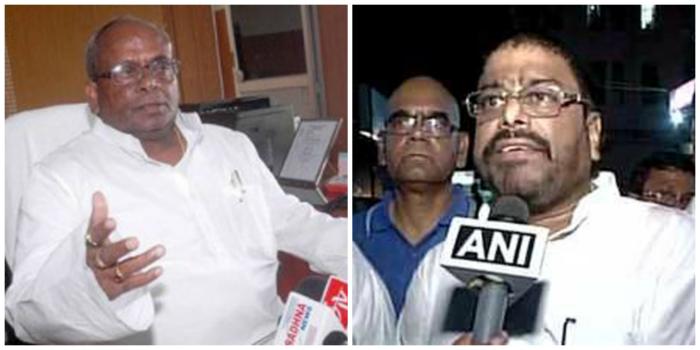 This reserved SC seat without fail witnesses voting on caste lines. JDU's sitting MLA Ramai Ram is seeking his ninth re-election. Ramai Ram, a senior minister in Nitish Kumar's cabinet will be facing LJP's Anil Kumar Sandhu, also party chief Ram Vilas Paswan's son-in-law.
Bajpatti: JDU's Ranju Geeta vs RLSP's Rekha Kumari
This constituency will witness a strong clash between two women candidates - JDU's Ranju Geeta and RLSP's Rekha Kumari. Ranju Geeta is the sitting MLA of Bajpatti that was created in 2010 after delimitation. A Phd holder, Geeta is one of the three women ministers in Nitish Kumar's cabinet.
(With inputs from PTI)