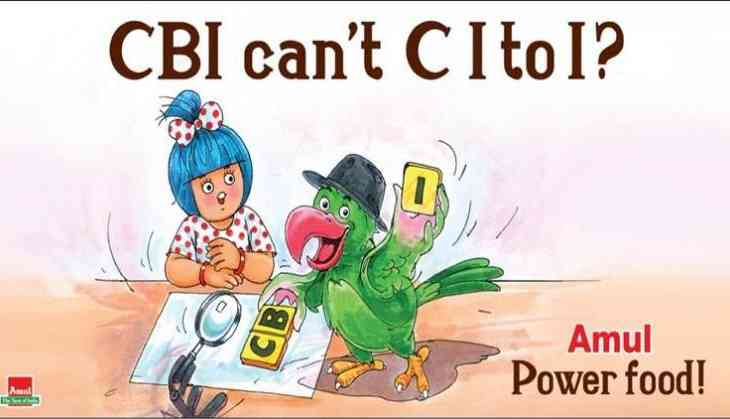 The internal fued in India's top investigating agency, the Central Bureau of Investigation (CBI), has been top story for every news organisation this week. CBI's Director Alok Verma and his deputy Rakesh Asthana were sent on forced leave after days of tussle between them.
The Supreme Court on Friday gave the Central Vigilance Commission (CVC) two weeks to complete its probe against CBI director Alok Verma, and will hear the matter on November 12.
Amul the largest dairy brand in India, which usually has a cartoon dedicated to relevant subjects and issues, had one on this as well. In its latest cartoon, Amul highlighted the tussle between the top officers of CBI. It took a sarcastic take on the allegations of corruption levelled against Verma and Asthana which says "CBI can't C I to I?
The cartoon also showed a parrot, which was a reference to the Supreme Court earlier calling the CBI a 'caged parrot' of government.
#Amul Topical: Controversy surrounds Bureau of Investigation. pic.twitter.com/weEwGQ4Kcs

— Amul.coop (@Amul_Coop) October 25, 2018
Amit shah managed to con even Amul. BJP started the trend of #CBIvCBI

They reframed this entire coup to stop Rafale investigation as a routine internal clean up.

— #Strategicculture (@devigoes4alpha) October 26, 2018
😂😂😂
Too good!!

— Radhika Acharya (@Radhii123) October 26, 2018