In the final leg of their expedition, the all-women crew of 'Indian Naval Sailing Vessel (INSV) Tarini' wafted across the fierce and rough ocean of Cape Horn where Pacific and Atlantic oceans meet and the waves rise as high as 100 ft, and hoisted the Indian flag.
With the risk of a mid-ocean break, sailing across the notorious point of Cape Horn at the tip of South America, was not easy. Such a victory did not go unnoticed by the Prime Minister Narendra Modi who congratulated the women and praised their efforts.
The five legs the crew has covered now are, Fremantle in Australia, Lyttelton in New Zealand, Port Stanley in Falklands and Cape Town in South Africa.
The Navika Sagar Parikrama, headed by Lt Commander Vartika Joshi and her co-sailors, Lt Commanders Pratibha Jamwal, P Swathi, Lieutenants S Vijaya Devi, B Aishwarya and Payal Gupta crossed the roughest passage on Friday morning.
When the Indian Navy broke the news on Twitter quoting 'Indian Tri-colours were hoisted with great Pride & Josh on board #INSVTarini as she crossed the Cape Horn (designated point by Lat/Long) Well Done #TeamTarini -we all are very proud of you', immediately wishes started pouring in and first was PM Modi who tweeted, ' Wonderful news! Delighted that INSV Tarini has rounded Cape Horn in the last few hours. We are extremely proud of their accomplishments.'
Made the Nation Proud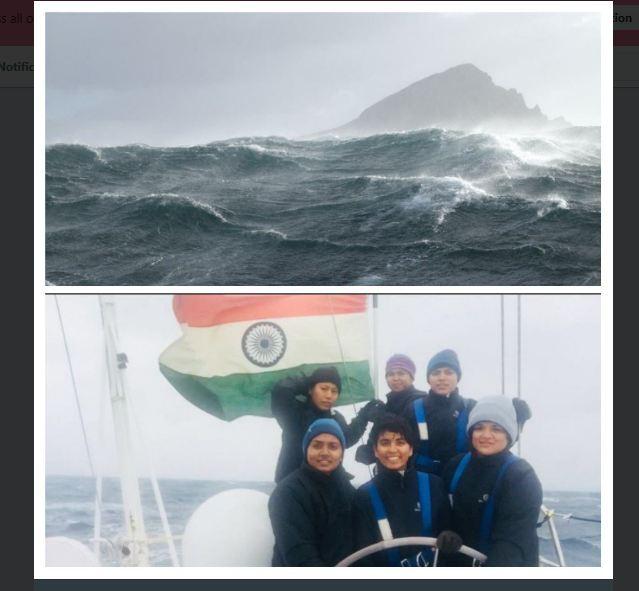 Mount Everest Climb- Twitter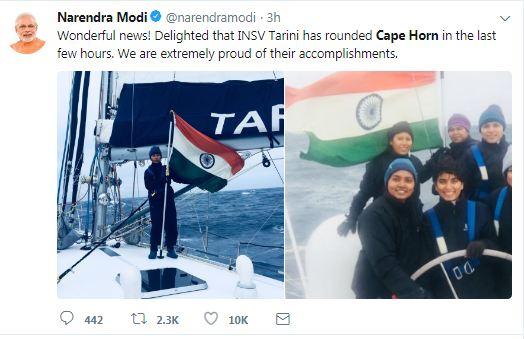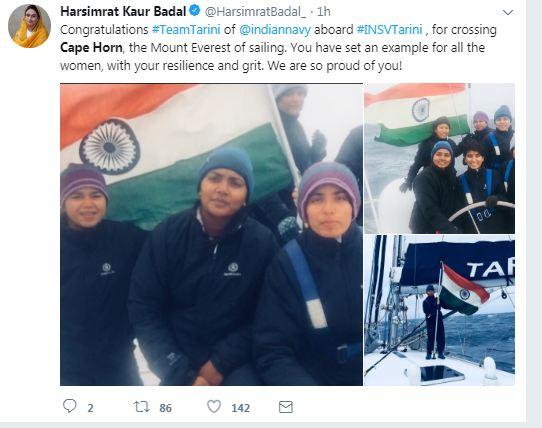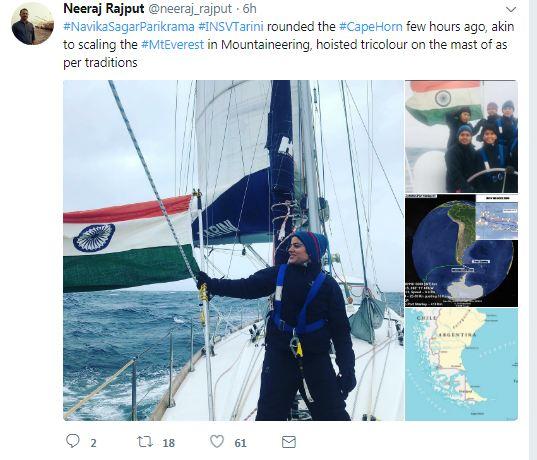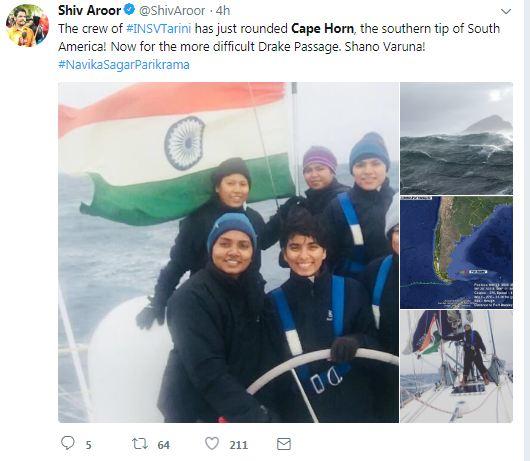 A proud mother tweeted, "Showed these pics to my daughter. These are the girls, every Indian daughter should know about...Their stories should be told to one and all! Soooo proud!" while there was another who wrote ' Every expedition has a moment its fans wait for. As #NavikaSagarParikrama rounded the Everest of the oceans #CapeHorn today, our beloved #Tiranga was unfurled. No doubt #INSVTarini danced with joy too. Thank you, you give hope to every daughter of India.'
The voyage is expected to end around March 2018 and the crew will be returning to Goa thereafter.