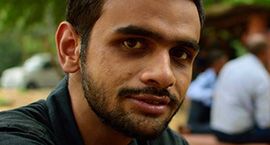 JNU student Umar Khalid's family has been so affected by threats since Umar went on the run after organising a pro-Afzal Guru event on the university campus on 9 February where anti-national slogans were allegedly made, that his 12-year-old sister has been unable to attend school, reports The Indian Express.
"She is only 12. She does not fully comprehend what is happening and yet has to face messages of hate and violence," said Umar's older sister. Last week, Umar's father had filed a police complaint about a death threat from gangster Ravi Pujari.
Umar has been vilified as a terrorist with sympathies toward the Jaish-e-Mohammed. "We have heard that in some areas, posters have been put up identifying him as a terrorist and a deshdrohi. I am worried that in all this hysteria it is becoming impossible for Umar to ever return to a life of normalcy," said Umar's father, Dr Syed Qasim Rasool Ilyas.
Umar's sister said: "I do think Umar and Kanhaiya have been singled out by the media and brandished as traitors and terrorists. This is a very convenient narrative in which a Muslim name is easily identified with radicalism. I also think that we have to fight collectively to have sedition charges dropped against all students."