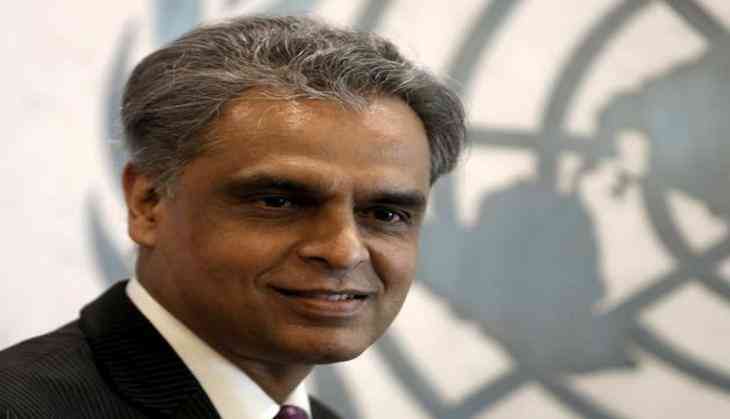 India's Ambassador to UN, Syed Akbaruddin
India's Ambassador and permanent representative to the United Nations, Syed Akbaruddin, on Monday said that terror is a perennial threat and will be addressed in strong terms at multiple forums.
"Terror is a perennial threat and will be addressed in strong terms at multiple forums. This is a goal that we've been pursuing since 1996 when India introduced a draft of the CCIT which is the global convention to combat terror. Since then the resonance has only increased," he told ANI.
Furthermore, Akbaruddin, in a veiled reference to Pakistan, vouched for isolation of countries that do not participate in combating the perennial threat.
"There are some (countries) who do not want to, for their own reasons, support such initiatives (to combat terrorism). Increasingly, such countries are being isolated globally. Our hope is that this process of isolation of such countries will continue to be strengthened," he noted.
He further said that India will articulate its views at the United Nations General Assembly (UNGA) with broad support from everyone.
"Diplomacy is not aggression or high decibel voice. It is all about articulating your views in a very coherent manner. We are confident that we will articulate our views very coherently with broad support from everyone. It is not about making noises. Noises cannot be a substitute for diplomatic action. Our focus is on diplomatic action," the Ambassador said.
Highlighting India's priorities at the 73rd session of the UNGA, Akbaruddin said, "All the issues that have resonance on the agenda of the United Nations General Assembly are those which impact everybody. So climate action, climate change and environment are on top of the agenda. In addition, as a developing country, we would like development cooperation and sustainable development to be another major area. This also includes digital cooperation. For us, digital is important."
In the wake of a rise in health-related concerns, Akbaruddin said this too will be discussed at length.
"You are aware that this year, the UN will address at least three major health issues. On all these health issues, we have a narrative to articulate and a story to tell and that story is of a large country trying to address these health issues in a manner that is attracting global attention," he added.
The United Nations General Debate will begin on September 25 and will be attended by External Affairs Minister Sushma Swaraj and a number of other global leaders.
-ANI