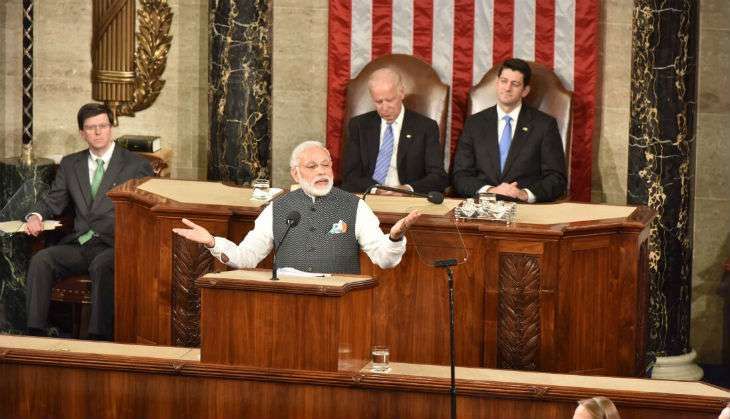 In his address to the joint sitting of the US Congress on 8 June, Prime Minister Narendra Modi made a veiled attack on Pakistan. He said that terrorism is being "incubated in India's neighbourhood" and pressed for action without making any distinction against groups like Lashkar-e-Taiba, Taliban and Islamic State who share the "same philosophy of hate, murder and killings".
PM Modi said that terrorism has to be fought with "one voice" as he commended the American Parliament for sending out a clear message by refusing to "reward" those who preach and practice terrorism for political gains. His comments were an apparent reference to the blocking of sale of eight F-16 fighter jets to Pakistan.
In the course of his 45-minute speech, he covered all major aspects of the growing relationship between India and the US, particularly strategic ties and civil nuclear cooperation. PM Modi emphasised that the two countries should leave "constraints of the past" behind as the "foundations of the future are firmly in place".
Dressed in trademark white kurta pyjama and grey-coloured half-jacket, PM Modi was warmly received by the American lawmakers who interrupted his address over 40 times to cheer him.
When his predecessor Manmohan Singh addressed the US Congress in 2005, his speech was applauded 33 times, according to Sanjay Baru, who was the Media Adviser to the then Prime Minister.
--PTI