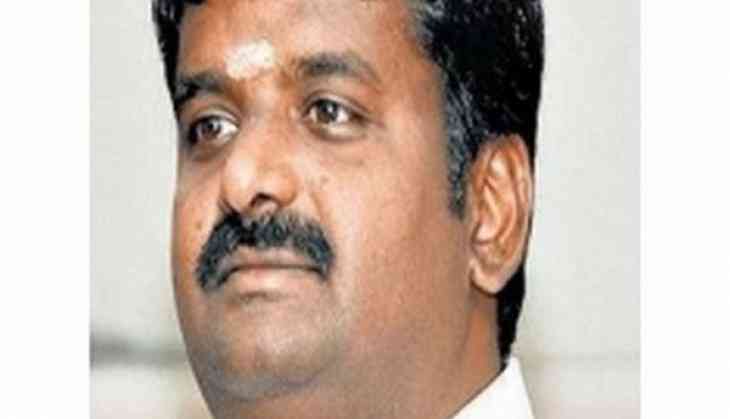 Tamil Nadu: Three ministers booked for 'obstructing' I-T officials (ANI)
Three Tamil Nadu ministers, a senior state government official and the driver of state health minister were booked by the police on 14 April, for allegedly obstructing and threatening Income Tax officials while they were carrying out searches here last week.
An FIR was filed against food minister R. Kamaraj, handlooms and textiles minister Udumalai Radhakrishnan and information and publicity minister Kadambur Raju on the complaint of an Income Tax official with the Chennai Police commissioner.
The complaint has been filed against them for obstructing raids at Tamil Nadu health minister Vijaya Baskar's residence.
The I-T officials last week raided several premises belonging to Vijaya Baskar and his relatives in Chennai and other districts in the wake of complaints that he was involved in cash distribution to voters in R.K. Nagar constituency where a by-election was to be held on April 12.
However, Baskar, in his defence, said that the raid was politically motivated.
"I am innocent. I was fully cooperating with the I-T officials. I showed all my documents and they were unable to find anything. They were threatening me. My children wanted to go to the school, but they were not allowed. This is politically motivated. The I-T department is harassing me," Baskar said.
The I-T department also conducted searches on the premises of actor and All India Samathuva Makkal Katchi leader R. Sarathkumar, former All India Anna Dravida Munnetra Kazhagam (AIADMK) legislator Chitlapakkam Rajendran and vice-chancellor of Dr. MGR Medical University S. Geethalakshmi.
By-polls in Chennai's R.K. Nagar constituency, which was earlier represented by late chief minister J. Jayalalithaa, were cancelled by the Election Commission after cash-for-votes allegations surfaced.
The decision came after Income Tax raids in Chennai found money was distributed to voters.
The Income Tax officials had alleged that the Sasikala faction of the AIADMK paid Rs. 89 crore to voters to buy support for its candidate TTV Dinakaran, who is also Sasikala's nephew.
As evidence, the department had cited documents seized during raids on Friday in more than 35 places - including Vijaya Baskar's property.
-ANI