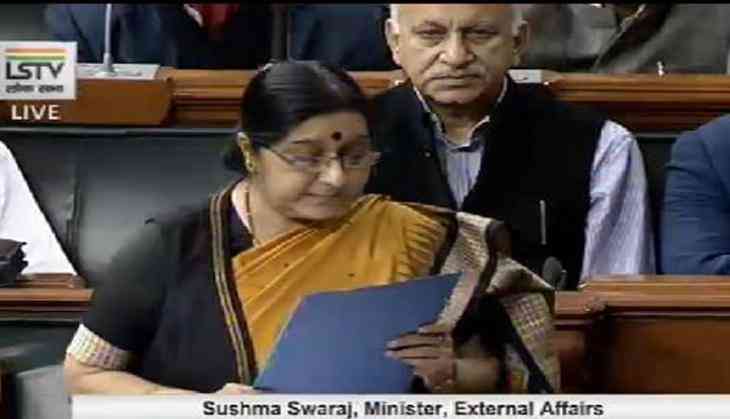 External Affairs Minister (EAM) Sushma Swaraj on 28 December tore apart 'shoe' theory of Pakistan after the meeting between Kulbhushan Jadhav and his family in Islamabad.
Making a statement in Rajya Sabha, Swaraj said the way Pakistan is spreading rumours that shoes of Jadhav's wife were 'bugged' is absurdity beyond measures.
"Pakistani officials surprisingly asked Jadhav's wife to remove her shoes and was provided slippers.
Pakistan didn't return her shoes after the meeting despite several requests by Jadhav's wife. Now, our apprehensions are proving to be true as reports coming from Pakistan allege that there was as a camera or a recording chip hidden in the shoes," Swaraj said.
The External Affairs Minister said it is absurdity beyond measures as both women took two flights- Air India and Emirates Airline- to reach Islamabad.
"For the sake of believing, let's assume the 'suspicious shoes' were cleared by Air India, but what about Emirates Airline flight that they took from Dubai to Islamabad? Is it possible for anyone to deceive the security check of Emirates Airline?" Swaraj asked, and added: "it's absurdity beyond measures".
Continuing attack on Pakistan, Swaraj said Islamabad crossed all limits of inhumanity in the garb of allowing jailed Indian Naval officer Jadhav to meet his mother and wife after 22 months.
"Pakistan used emotional meeting between Jadhav, his mother and wife after 22 months as propaganda and flouted all the understandings between the two countries over the meeting. Islamabad touted this meeting was based on humanity and good faith, but fact of the matter is that there was neither humanity nor good faith during the meeting," Swaraj said.
She further added there was an agreement between India and Pakistan that media won't be allowed during the meeting but it was also flouted.
"It was agreed that media won't be allowed but Pakistan not only allowed media but allowed journalists to heckle and harass Jadhav's wife and mother. Pakistani media tried to prove Jadhav guilty in front of his mother and wife," the External Affairs Minister said.
The entire House backed Swaraj by shaming Pakistan.
After the meeting, Jadhav's mother and wife were also harassed in heavily guarded foreign ministry office by Pakistani journalists.
Adding to these treatment, Pakistani journalists heckled and harassed Jadhav's mother and wife by hurling insensitive questions on them - "Aapke patidev ne hazaron begunah Pakistaniyo ke khoon se Holi kheli ispar kya kahengi? (your husband killed thousands of innocent Pakistanis, what do you have to say about that?)'" and "Aapke kya jazbaat hain apne kaatil bete se milne ke baad? (How do you feel after meeting your killer son?)".
Earlier on Wednesday, the Parliament witnessed protests, with various political parties, including the Shiv Sena, Trinamool Congress and AIADMK condemning the way Pakistan humiliated the kin of jailed Indian national Kulbhushan Jadhav in Islamabad.
"We condemn the way Kulbhushan Jadhav's mother and wife were treated in Pakistan. Kulbhushan Jadhav should be brought back to the country," said Congress leader Mallikarjun Kharge in the Parliament.
Earlier on Tuesday, the Ministry of External Affairs (MEA) said Pakistan disregarded the cultural and religious sensibilities of former Indian naval officer Kulbhushan Jadhav's family, who met him on Monday in Islamabad.
The wife and the mother of Jadhav were asked to remove mangalsutra, bangles and bindi, besides having been asked to change the attire, for "security" reasons.
Jadhav is on a death row in Pakistan over charges of terrorism and spying for India's intelligence agency- Research and Analysis Wing (RAW).
On May 18, 2017, the International Court of Justice stayed the hanging after India approached it against the death sentence.
-ANI