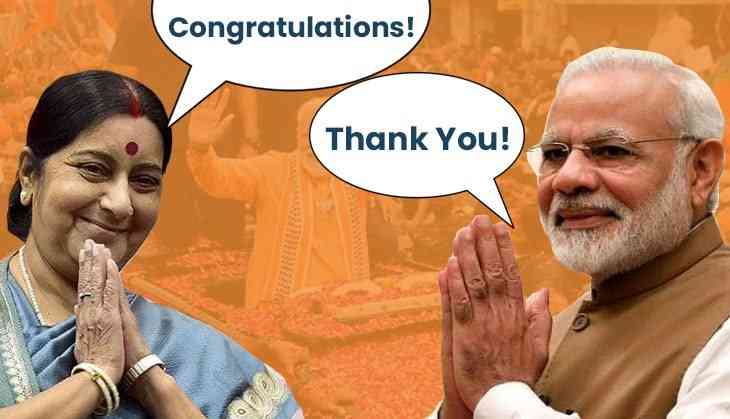 External Affairs Minister Sushma Swaraj took to Twitter and posted a congratulatory message for Prime Minister Narendra Modi.
Perhaps, Swaraj has become the first of the ministers who tweeted first to congratulate PM Modi as he leads from his Varanasi constituency.
Check out what she tweeted:
प्रधान मंत्री जी @narendramodi - भारतीय जनता पार्टी को इतनी बड़ी विजय दिलाने के लिए आपका बहुत बहुत अभिनन्दन. मैं देशवासियों के प्रति हृदय से कृज्ञता व्यक्त करती हूँ.

— Chowkidar Sushma Swaraj (@SushmaSwaraj) May 23, 2019
Sushma Swaraj posted a message in Hindi and wrote, 'PM Modi ji, thank you so much for giving a huge victory for Bhartiya Janata Party. I express my compassion towards the countrymen.'
Also read: Lok Sabha Election Results 2019 LIVE Updates: As counting begins, NDA leads in early trends
Narendra Modi-led NDA is all set to make the government for the second time in the country after a major victory in most part of the country.
As per the Election Commission latest updates, BJP is leading from 295 seats while Rahul Gandhi-led Congress trailed far behind with 50.
Also read: Lok Sabha Election Result 2019: Maneka Gandhi trailing in Sultanpur constituency
With its allies, the BJP-led National Democratic Alliance could win 343 seats in the 543-member Lok Sabha. In the last election, the NDA had 336 seats while BJP accounted for 282.
-With PTI inputs