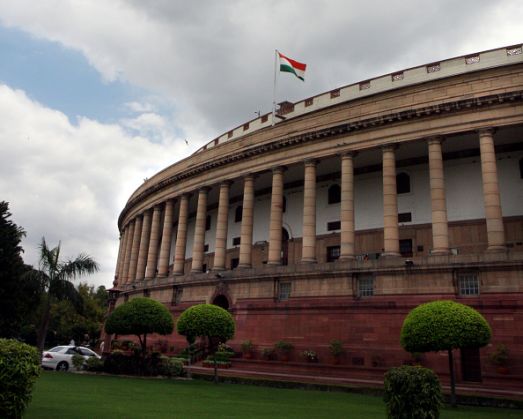 Congress once again stalled a discussion on the GST Bill in Rajya Sabha and forced the adjournment of the House for the day as it took strong exception to some business houses asking Parliament to function and demanded a response from Prime Minister Narendra Modi over Lalit Modi and Vyapam issues.
In Lok Sabha, a remark against Congress President Sonia Gandhi angered her and she rushed into the Well of Lok Sabha along with her party colleagues, protesting vigorously. As the uproar continued, Speaker adjourned the House for about an hour, till 2.45 PM.
After the proceedings of the lower house resumed, Congress member Mallikarjun Kharge said that Foreign Affairs minister Sushma Swaraj should resign on moral grounds and for direct or indirect involvement in Lalit Modi controversy.
In a reply to all the allegations, Sushma Swaraj said, "I admitted my fault. Honorable speaker what I said was if helping a woman suffering from cancer who's an Indian citizen is a fault, then I accept my fault. Does Mallikarjun Khargeji consider it as admission of guilt?"
She further said there is no conflict of interest in her case.
My husband and daughter have not taken a single penny from Lalit Modi for this case, said Sushma.
Pointing her finger towards the Opposition, she said that Quattrocchi and Anderson were allowed to walk free by the Congress.
Rajya Sabha proceedings disrupted
Congress and parties like JD(U) and CPI(M) attacked the government for "using" media and businessmen to hit out at the opposition for disruptions in Parliament.
As the government said it was ready for a debate on any issue and accused the opposition of running away from it, the opposition sought a discussion under a rule that entails voting on the lines of Lok Sabha.
Opposition and treasury benches exchanged sharp barbs after Sharad Yadav (JD-U) said the charge that BJP government was "a government for money bags has been vindicated" in the attack on Parliament by "capitalists".
"Today that charge is vindicated," he said adding that Parliament represents 125 crore Indians.
The JD(U) leader was referring to an online signature campaign in which over 15,000 people, including the country's top industrialists, have urged lawmakers to allow Parliament to function, debate and legislate.
Finance Minister and Leader of the House Arun Jaitley retorted, telling Yadav " does the common man want Parliament not to function? ... You are guilty of stalling democracy."
This comment triggered Congress members to rush into the Well shouting slogans against the Government, forcing the first adjournment till noon.
When the House reassembled for Question Hour, Leader of Opposition Ghulam Nabi Azad said Yadav has raised a very important issue that involves the prestige of this House, as some industrialists are now trying to "teach us how to run Parliament."
"The MPs are being derided. The ruling party is using media and business houses to attack the opposition," he said, charging the government with terrorising channels who do not tow their line, but "this cannot terrorise MPs."
Sitaram Yechury (CPI-M) said questions were being raised on the functioning of the House and business houses are telling MPs how to run Parliament.
"They cannot interfere...We also want the House to run," he said, demanding that there be a discussion on the IPL row along with voting, as was being done in Lok Sabha. "Why can't we have it in this House also," he said, demanding a thorough probe into the Lalit Modi controversy involving External Affairs Minister Sushma Swaraj.