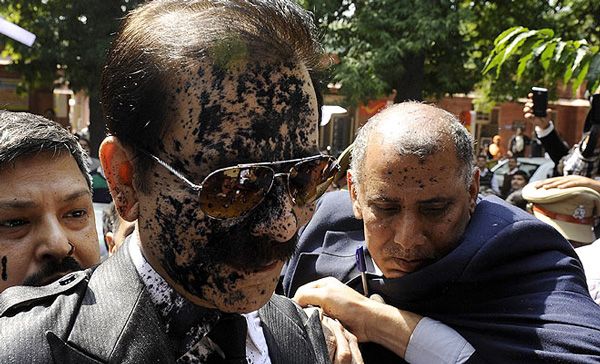 The Supreme Court on 30 March took exception to submissions by senior lawyer Kapil Sibal questioning its power to send Sahara Group chief Subrata Roy to jail for not refunding money to investors and asked him to argue on facts and law. A bench headed by Chief Justice T S Thakur told Sibal, who was appearing for Roy:
"You are in jail on the orders of this court. These orders may be right or wrong. We are not sitting in appeal on that order. The only way he (Roy) can come out is by complying with the orders of the court."
The observations came after Sibal questioned the power of the apex court and said "law and facts were on the side of Sahara. Nowhere in the world persons are kept in jail like this. In which jurisdiction they (Court) have powers to send me to jail. Contempt plea (by SEBI) is yet to be decided."
To this, the bench said:
"We have heard numerous lawyers on the subject. Lawyers come and go. We have never stopped you from making legal arguments but argue on facts. Don't lecture us. Don't give us a speech. Nowhere in the world a person says that I have assets worth Rs 1,87,000 crore. I can pay any time but is not paying Rs 10,000 crore."
Sibal further told the court that Sahara group was facing difficulty in selling their assets as "market was bad" and "properties are not getting buyers."
The apex court then said, "we will hear you on appointing receiver. You are unable to sell. That (appointing a receiver) is the only solution to this problem. Sell them and let whatever money come."
When Sibal sought extension of communication and other facilities to Roy, the court asked "for what? You say market is down, there are no buyers".
-- PTI