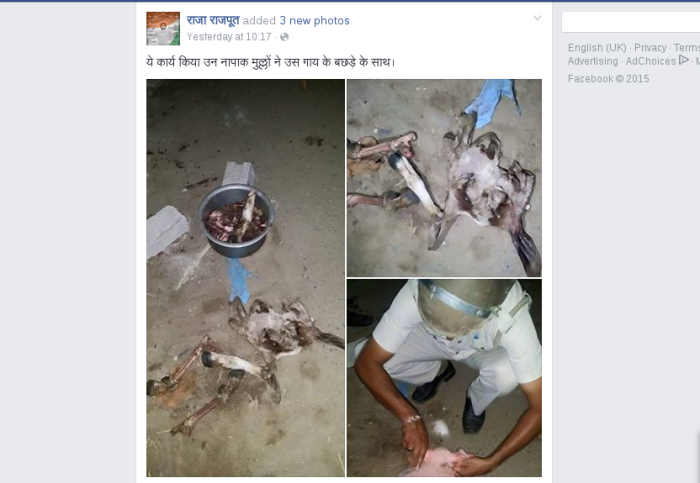 One would think that the Dadri lynching over meat was the end of it. Or at least, one would hope so. But the presence of social media tends to propel every issue forward with sometimes an undesired gusto. Opinions flow free on Facebook and Twitter, and so does propaganda.
However, one falls short of the right sort of vocabulary to describe the 'citizen journalism' that has occurred around the Dadri mob violence where a man was beaten to death for apparently consuming beef. Right from the start, these men (all men) on Facebook and Twitter started 'reporting' the aftermath of the incident, of the press coverage and the tension that gripped Bisada gaon, with their disturbing comments.
Here are some screenshots:
Caption: "This is what those Muslims did with the young calf."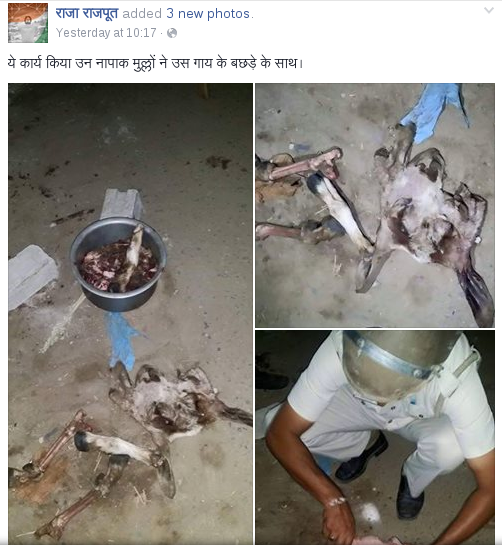 Caption: "Police vans have surrounded the village. Don't know what this means. Something could go wrong at night. I'm thinking of staying back tonight, but this could be my last post."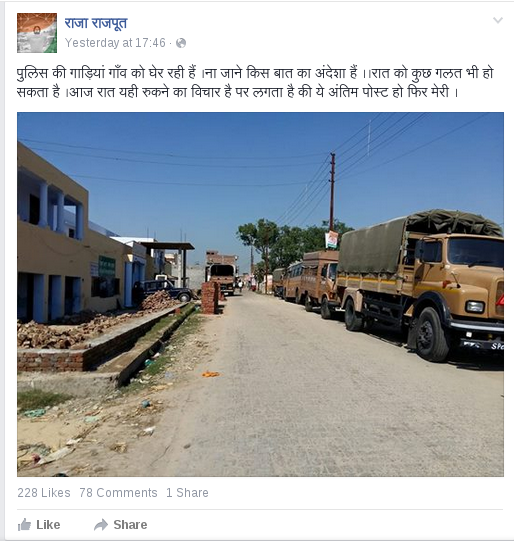 From fear, the posts escalated to the level of direct threats.
Caption: "So the SDM has also reached the Muslim house. Azam "pig" Khan, if you come today then I swear by God that I will kill you right at this spot."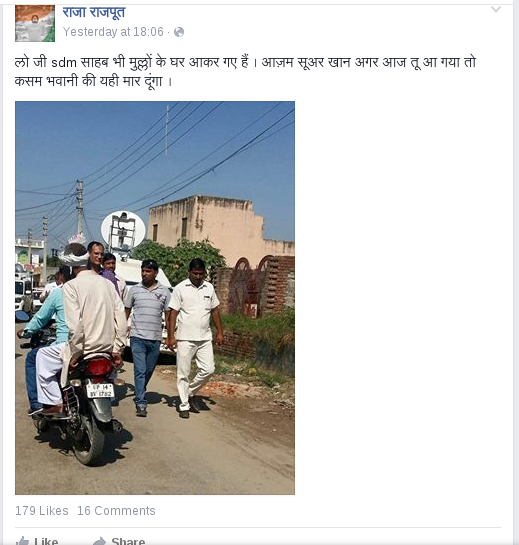 And the comments to this post do not help: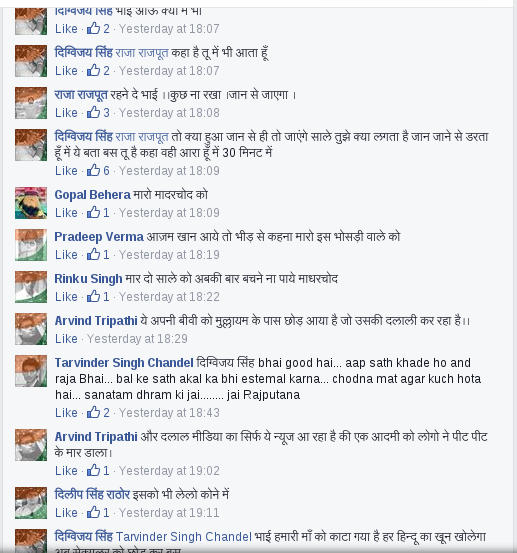 This post openly declares that such incidents will soon become common.
Caption: "I've heard that the media is claiming that the lynching was based on rumours (about the meat being beef). In that case, I declare that such 'rumours' will become commonplace."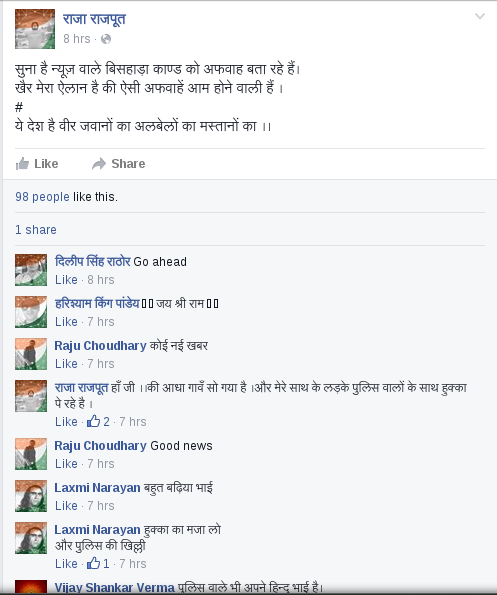 And the comments: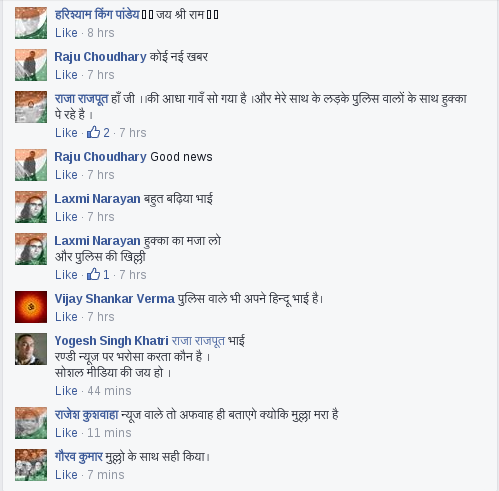 This man believes that that "barring the killing, this was a matter of pride for Hindus".
Caption: "Emotions, anger, loudspeaker in a temple, Hindus collecting in once place... After all, this is what we need."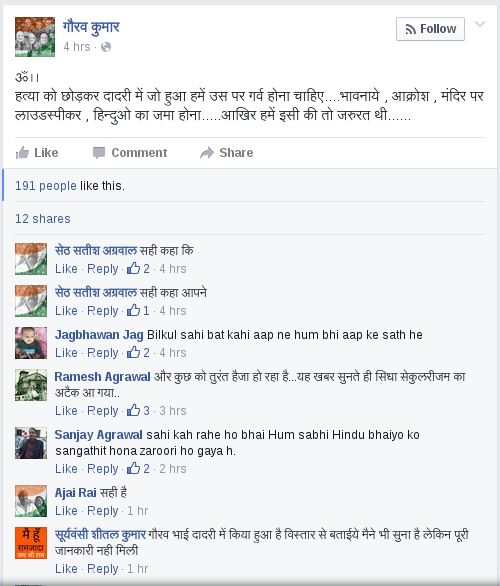 This post justifies the killing by stating that Akhlaq (the murdered man) too killed an animal.
Caption: "One can't say how many innocent animals Akhlaq cut and killed before cooking and eating them. Now if Akhlaq is cut, why are we outraging? Shut up. Because Akhlaq never let those animals scream their anguish. #ThisIsTheLawOfNature"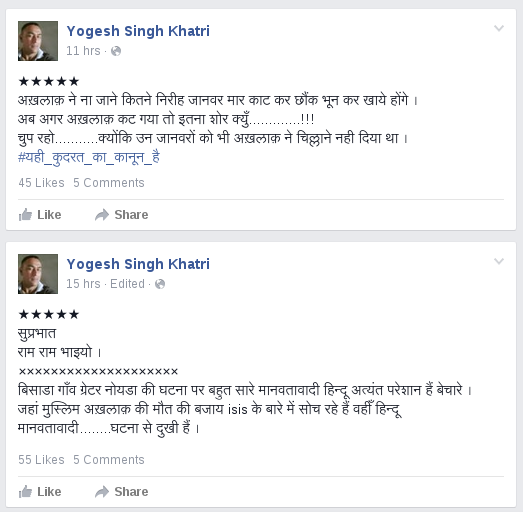 And this is how safe the media was in the gaon.
Caption: "I have been waiting all morning. Ravish came, so did Rajdeep. But she didn't come. Who, you ask? #RubikaLiyaqat"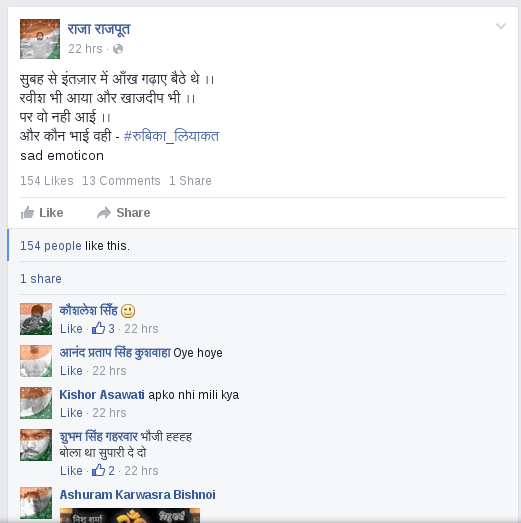 But this man on Twitter has had us worried the most.
Tweet: "Murder the whole family of whoever consumes beef. If they fear death, they won't consume beef and cows won't be killed."
"Dadri Hindus have done the right thing."
"It has started. Not these [cow] killers will not be spared."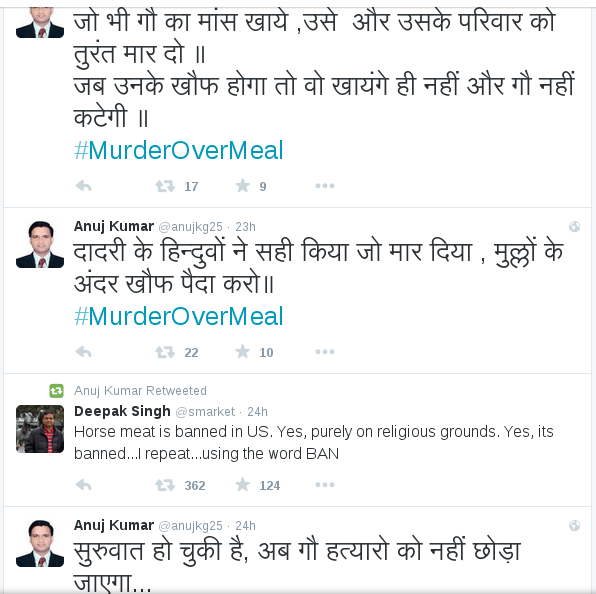 His tweets were re-tweeted and reported by many, but to no avail. Can Twitter explain why?
A lot of people have reported this account for inciting violence but @Twitter @twi couldn't care less pic.twitter.com/3p0zkG1imN

— Shivam Vij (@DilliDurAst) October 1, 2015
As one commentator on one of the horrific posts puts it, "This 'prostitute' media cannot do anything in the time of social media."
Is this the Digital India we dream of through tricolour tinted Facebook display pictures?