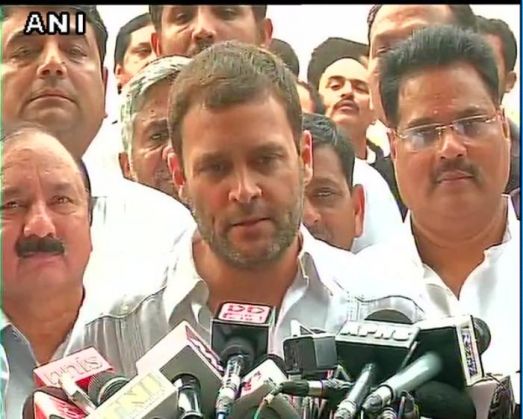 Amid celebrations and fireworks outside the Congress headquarters, Congress Vice President Rahul Gandhi gave some advice to Prime Minister Narendra Modi. Congratulating Nitish Kumar and RJD's Lalu Prasad Yadav Gandhi said: "I want Mr.Modi to tone down his arrogance, it will be good for him and for the nation as well-Rahul Gandhi. Mr Modi should stop campaigning, making foreign trips and go amid the youth, the farmers to understand what they want and what they feel".
He also congratulated Congress party workers for the victory. Congress party lost no time in crediting Rahul Gandhi for it, hailing him as the "architect" of the Grand Alliance. "While Chief Minister Nitish Kumar is the architect of the victory in Bihar, Rahul Gandhi is the architect of the alliance," Congress leader Sanjay Nirupam said.
It is the general refrain in the party with general secretary Shakeel Ahmed insisting that the Grand Alliance could not have been possible but for the effective role played by Congress Vice President Rahul Gandhi.
Leaders recalled that it was Rahul who brought Nitish and Lalu Prasad together and played a key role of catalyst at a time when the RJD supremo was having reservations. The victory in Bihar is also being talked about as a good timing for Rahul to take over as party chief. Replying to questions, party leaders including Shakeel Ahmed said it is for party chief Sonia Gandhi and Rahul to decide on the issue.
There was much talk that an AICC session could be held in the current month itself. Bihar is the first victory for Congress after a long time -- the last major victory being the Karnataka assembly polls where it defeated the BJP.
The 40-minute meeting between Rahul and Nitish Kumar in Delhi months ahead of the polls played a crucial role and is being termed as "path breaking", Congress sources said. In a tweet, Rahul called Bihar results a victory of unity over divisiveness, humility over arrogance, love over hate. Congress had contested 41 seats out of 243 as part of the Grand Alliance and is leading in 18.
With inputs from agencies