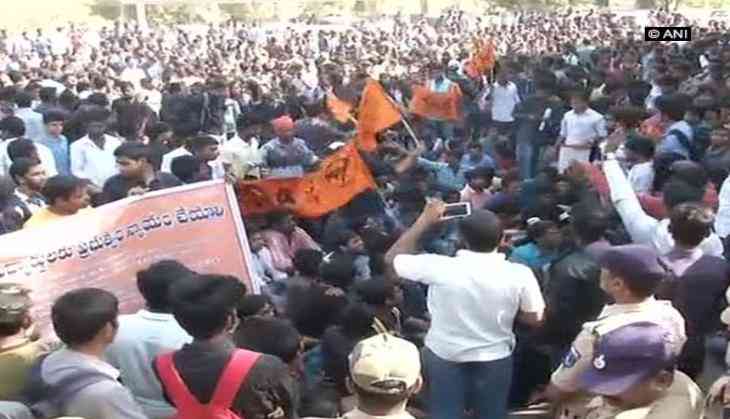 Scores of students in Hyderabad's Chaitanya Bharati Institute of Technology (CBIT) continued their agitation against the authorities over the fee hike for the sixth consecutive day.
A student, who is protesting against the fee hike, had said that the management was hiking the fees to Rs two lakh, from the current Rs 1.13 lakh.
Javaji Dilip, General Secretary, Akhila Bharatiya Vidyarthi Parishad (ABVP), Telangana division has demanded the authorities should roll back the fee hike as soon as possible.
Speaking to ANI, Dilip said: "ABVP demands CBIT not to commercialize the education. Education is a service, not a business. The management should release a new circular to students who joined in 2016-17. They should mention it clearly, that there would be no further fee hike."
Siddharth, a first year student of CBIT, said: "We are protesting against the fee hike. There has been a 76% rise in the fees. This is injustice for all of us. The management is not telling properly and they are playing mind games with us. They are telling something else to us and the media. We will continue the protest, until the management rolls back the fee hike."
"Few days back, we were having our exams, when they (management) announced this. They took our signatures as well. They are blackmailing us. They are arguing that if we don't sign, we won't be allowed to give the exams. They won't give us placements also," added Siddharth.
Akhil, a second-year student studying in the college, said: "We are staging this strike for the last six days. We are not going to rest, until the management rolls back our fee hike. They are forcing us to pay two lakhs. Our principal is also not supporting us and has threatened to suspend us, if we don't stop the protest."
-ANI