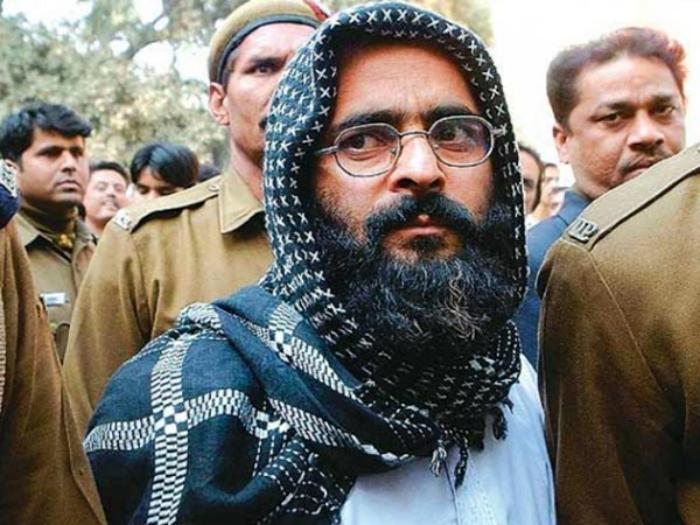 A complete shutdown is being observed across the Kashmir valley today in view of the third death anniversary of the Parliament attack convict Afzal Guru. All shops, business establishments remained closed with traffic at the minimal in the state summer capital. The daily life of the valley residents was affected owing to the non-availability of public transport.
Both factions of Hurriyat Conference, Jammu and Kashmir Liberation Front (JKLF), and other separatist groups have called for a complete shutdown and peaceful protests on 9 February and 11 February on the death anniversaries of Guru and JKLF founder Muhammad Maqbool Butt, respectively. They urged people to seek the return of the mortal remains of Guru and Butt.
Paramilitary forces and police have been deployed in many sensitive areas to stop any kind of protests. The shutdown call was given by all separatist groups including Hardliner Syed Ali Shah Geelani and Yaseen Malik.
Jammu and Kashmir Police on Monday launched a crackdown on separatist leaders to foil the protests. A police contingent raided JKLF office at Abi Guzar in Srinagar and arrested its chief Muhammad Yasin Malik along with three leaders including vice-chairman Mushtaq Ajmal, zonal press in-charge Ashraf-Bin-Salam, and Ghulam Muhammad Dar.
Post the arrest, Malik said JKLF had decided to stage a peaceful protest on 10 February to "attract the attention of world community to the denial of mortal remains of Guru and Bhat to their family members by New Delhi."
Malik along with three other leaders was presented before a magistrate in Srinagar and sent on a seven-day judicial remand to Central Jail, Srinagar. Hurriyat Conference (G) spokesman Ayaz Akbar has also said that the police placed senior leaders of the amalgam including Muhammad Ashraf Sehrai under house arrest.
Senior pro-freedom leaders including Shabir Ahmed Shah and Nayeem Khan have also been placed under house arrest. Police also arrested Mass Movement Chairperson Fareeda Behanji and her other party activists when they took out a procession from Abi Guzar.
The Srinagar administration has announced restrictions for areas falling under five police stations. "There will be restrictions in areas falling under Nowhatta, Khanyar, Maharjgunj, Kralkhud, SafaKadal and Maisuma police stations on Tuesday," said Deputy Commissioner Srinagar Farooq Ahmed Lone.
Afzal Guru, the December 2001 Parliament attack convict, was secretly hanged in New Delhi's Tihar Jail three years ago.
-ANI