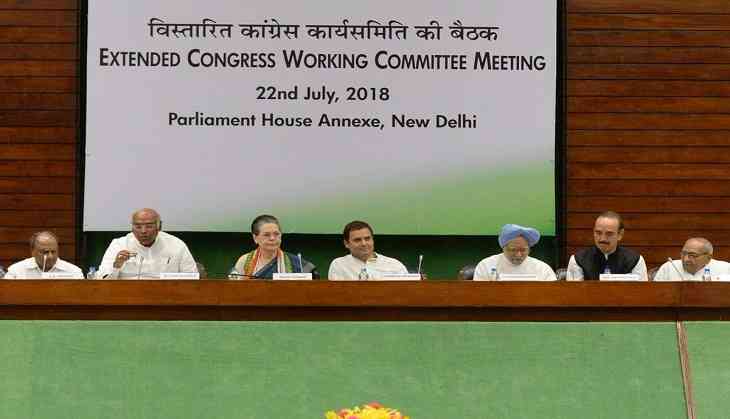 After the severe attack by the Congress president Rahul Gandhi on the Narendra Modi government in Lok Sabha, now Congress chairperson Sonia Gandhi came down heavily on the BJP-led central government. Reportedly at Congress Working Committee meeting, she said that the reverse countdown of the Modi government has just begun.
Supporting Rahul Gandhi, she said that they are committed to form alliance and work together and they are all in support of Rahul Gandhi and his endeavor. Accusing the ruling party BJP of compromising the democracy of the country, she said that they will work to get people out from the clutches of this 'dangerous regime'.
Sonia Gandhi ji points out that rhetoric of PM Modi shows his desperation, reflecting that reverse countdown of Modi Govt has begun: RS Surjewala,Congress on CWC meeting

— ANI (@ANI) July 22, 2018
Former PM Dr Manmohan Singh, Former Congress President Sonia Gandhi &
Congress President @RahulGandhi address the Congress Working Committee meet. pic.twitter.com/ADNLdCgoBQ

— Congress (@INCIndia) July 22, 2018
"We are committed to make alliances work and we are all with him (Rahul Gandhi) in this endeavour. We have to rescue our people from a dangerous regime that is compromising the democracy of India," said Gandhi at the meeting.
By this statement, Gandhi hinted that her party will form alliance in the coming election to defeat the BJP and the CWC is expected to give him a go-ahead in the matter.
Speaking at the CWC meeting, former finance minister P Chidambaram also called for the broadest political alliance to defeat the NDA.
Addressing the meeting, Rahul Gandhi reminded the members of the party of their role as the 'voice of India' and their responsibility of the present and future.
Former Prime Minister Dr Manmohan Singh also addressed the gathering. He "rejects the culture of constant self-praise & jumlas of PM as against solid policy framework for driving the engine of growth."
Speaking on the economy of the country, Dr Singh reportedly said that the government's claim of doubling farm income will ''require an Agri Growth Rate of 14%, which is nowhere in sight".
Also read: GST rates cut on 50 plus items: Sanitary napkins, TV, refrigerator to get cheaper; check the detailed list of product and cut on it