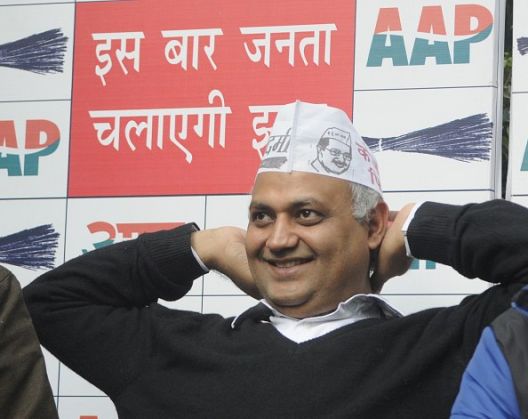 Delhi Government's special Assembly Session on women's safety turned controversial after a remark from Somnath Bharti, AAP MLA from Malviya Nagar . He said, "We should make Delhi so safe that even the most beautiful women will not hesitate to step out at night".
The remark has led to outrage across political parties. "It is absolutely disgusting and derogatory towards women, but it is not surprising coming from someone who defied law even when he was law minister," Sharmistha Mukherjee, Delhi Pradesh Congress Committee chief spokesperson. Even BJP leader Vijendra Gupta questioned Chief Minister Arvind Kejriwal for not censoring Bharti for his comments.
Bharti, however, requested, "media friends not to twist" his statement. In a Facebook post he said: "I have said beautiful women laden with jewelries can travel at midnight fearlessly is the kind of benchmark one can measure security level at Delhi against, if AAP has police control".
He also targeted Mukherjee saying, she can't even understand the meaning of this statement because "her own brother had gone to insult the protesting women by calling them dented-painted. Have some shame n don't politicize just for the sake of politics".
However, Bharti conveniently forgets that Mukherjee was one of the first to condemn her brother Abhijeet Mukherjee's controversial statement.
Bharti's wife had filed a domestic violence case two months back. Also, his midnight raid on Nigerian women in 2014 as Delhi's law Minister was hugely criticiced.