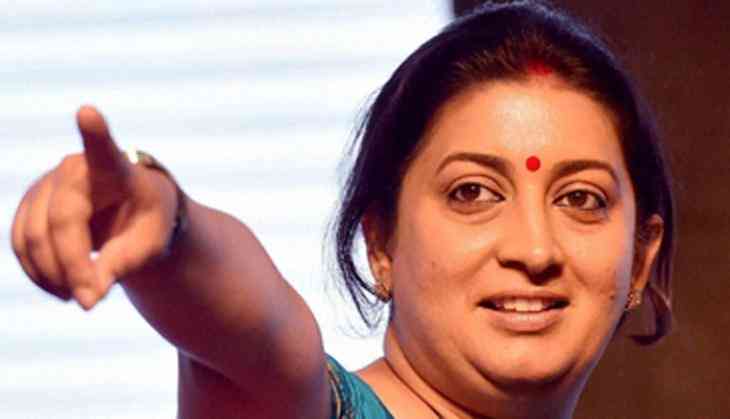 The television actress-turned-politician and the Textile Minister of India Smriti Irani has celebrated her 43rd birthday on 23rd March. She also celebrated her birthday bash with her social media followers by sharing her photo with them. There is no doubt that Smriti Irani is a star on social media for her various posts that keep on engaging her followers and fans.
The 43-year-old minister as an active social media user always updated some amazing pictures or videos on her Insta account. She used to shares several secrets or her feelings on the famous photo sharing application which grabbed the eyeballs of netizens.
This time, Smriti has shared one of the most heartwarming posts that will make you emotional too!
She has uploaded the post on her birthday that was on 23rd March, in which the Textile Minister can be seen as getting the warmest hug from her daughter Zoish Irani.
Irani also captioned, 'The birthday hug which reminds you 'damn my baby has grown up'#motherdaughter ❤️#simplejoys ❤️❤️❤️.'
Check out the post:
What the best Jodi of a mother and a daughter!
Her post has won the hearts of millions of his fans!
Check out the reactions:
Happy wala Birthday🎂🎉🎁 SMRITI IRANI jee...

— mai hun Chokidar Suraj Rawani (@SurajKu65007268) March 24, 2019
@smritiirani Happy Birthday Smriti Irani ji Eswar aapko swasth rakhe aur apkibar election me amethi se aapki prachand vijai ho.💐🙏

— ChowkidarRamesh kumar mishra (@Rameshkrrmishra) March 24, 2019
@smritiirani

A born Durga. A tigress with iron nerves and steel spine

The woman who levied fear and forced a Nehru dynasty member to contest in a safe seat in Kerala apart from Amethi.

Happy birthday to Smriti Irani ji,

One of favourite politician Long life Madam Jee pic.twitter.com/PcQ4VFPPXX

— Chowkidar Akshay Jain (@dilsaeakshay1) March 24, 2019
Happy birthday smriti Irani ji https://t.co/UoWalhWlsZ

— # Mainbhichowkidar ravi sureka (@ravi_sureka) March 24, 2019
Happy birthday to you respected smriti irani ji....

— Praveensoni (@Praveen02295825) March 24, 2019
Smriti Irani who shares my happy birthday will lose by 2.5 lash votes. And Rahul Gandhi WILL win both seats.

— rajiv ramanujam (@vernal_equinox) March 24, 2019
The BJP leader has celebrated her birthday with her family which proved her love & affection for her family.
Earlier, Irani had also shared a picture with her son Zohr Irani and has left everyone smiling.
Smriti Irani also got some special surprise from her best friend Ekta Kapoor on her birthday.
Read here what Indian television producer, film producer and director had gifted to her friend and the lead actress from her hit show Kyunki Saas Bhi Kabhi Bahu Thi!
Click to read full story: Smriti Irani, on her birthday gets a special surprise from Ekta Kapoor, her best friend from Kyunki Saas Bhi Kabhi Bahu Thi!